Press Release by the Solidarity Group in Patras concerning the increased violence against migrants and refugees in the area around the new port in Patras, 13th of October 2011:
Press Release (in English)
Press Release (in Greek)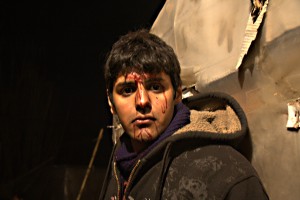 Statement by the Afghan Association "Bahar":
Since March 2011 the Afghan refugees in Patra have created the association "bahar" (English: "spring") with the aim to help each other to integrate into the Greek society in an atmosphere of friendship and harmony with the locals.
Unfortunately, within the last five months we have seen an increase in incidents of violence by the authorities against us Afghan refugees. Everyday Afghans report to us of violent attacks with severe injuries. The victims have attestations of the hospitals to prove these. This brutal strategy of the authorities constitutes a harsh human rights violation and in any case is no solution for the migration issue in Patras whatsoever.
The association of Afghans in Patra "Bahar" has started to raise this issue of violence in public. We will stand at the side of all victims and we will take also legal measures to report these human rights violations.