Sylvie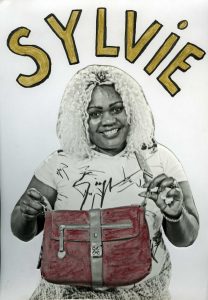 I start from the moment we were in Turkey. I am Sylvie and I am 42 years old. I left Turkey on the 20 April 2017, I was only 3 days in Izmir. Joelle and me didn't know one another. We met in the dinghy. To start with: I could not enter, I just wanted to escape. We were 24 people. I all the time went back, giving space for others to enter first. I entered the boat last because I was scared. While trying to get inside, my bag was creating obstacles, so I passed it over to Joelle and told her: "Please help me". She took my bag. I then entered the dinghy and told her to hand me the bag back. She answered: "You gave me the bag, let it be with me. I will give it to you when we arrive. No problem."
"Ok, no problem," I replied.
We were uncomfortable there, too many people. We were suffocating. I preferred to give her the bag. The time was 21 o'clock. We had started.
All of a sudden in the middle of the sea the fuel finished. I wanted to take my bag from Joelle to take out my phone. All telephones were switched off. We had asked a boy to turn on his phone and call for help, but he did not. So, I asked Joelle for my phone that was in the bag. She opened my bag, gave me my phone. The time I wanted to call, a wave came and took the phone in the sea.
That's how the worst nightmare started. The dinghy started sinking in the water. (She stops talking)
I cannot continue … can you Joelle?
Continue reading 'SYLVIE AND JOELLE: Survivors of the shipwreck of 24 April 2017 between Turkey and Greece'