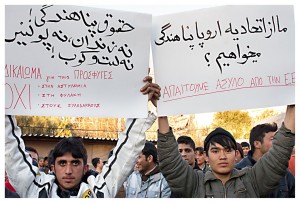 This letter was written and distributed on January 2, 2012 after another beating of refugees had occurred in Patras by the coast guard. The same day a young Afghan refugee died of suffocation in Patras while he was trying to resist the cold weather with his friends inside a truck were they lit a small fire. His two friends survived and are currently hospitalised.
In the name of god,
Since we were small kids in our home countries there was trouble, but we didn't understand what this trouble was. Later we grew up and we understood that this trouble is war. The seasons were changing and every day became more difficult. On this way we reached today.
Since then and until today we are thinking about our future and what our destiny will be. When we were in our countries they were telling us lies. They told us in Europe we would find democracy and we would get human rights. But it is different here. To build up our lives we have to cross the borders. In Greece this is very difficult.
Supposedly, the police exists in order to protect people. Here it is not like that. The police in Greece is beating us, is mocking us, is arresting us, insulting our countries and religions – all this even if we are minors. We were in the old port area and came to the fabric on the opposite side of the new port in order that the people of Patra are not disturbed by us and with the aim to leave to another country. Many times the police comes at 5am while we are sleeping, wakes us up, beats us, burns our documents, they tell us we would go on a trip and then they send us to Athens. There they usually leave us in the Aliens Police. Some of us who have no money have to walk back to Patras, a 6-day-walk.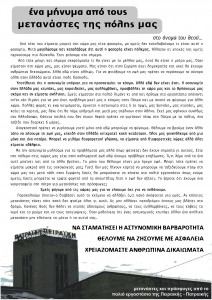 We are forced to return to Patras because only from here we can leave Greece. We want to find another place to live our lives because the situation in Greece is very bad. We were all born from one mother and one father. We might speak different languages, we might be from different countries but we are all brothers and sisters.
We spoke with the police about our problems but it seems as if they do not care. Either during war in our home countries either in our daily lives here we have the problem of survival. Whatever we say goes in one ear and out the other. The only thing we want is a calm life. Until when do we have to be far from our families? Why don't they give us papers to be able to visit our families and come back to Europe? Could you live in an old fabric as we do? Could you eat food from the rubbish? Life is not worth anything like this. Did you know that we have a cemetery for migrants and refugees in Patras?
We left our homes in order to live not in order to die.
We ask everybody who reads this text to change any bad thought he or she had about us. If one migrant does something bad its not the fault of all of us. You should not change sidewalk if you see one of us on the street. There is no god who wants you to beat weak people, to arrest them, to cut them off from water and electricity supply and to humiliate them. When you see a police officer beating one more minor migrant, don't close you eyes and ears.
STOP POLICE BARBARISM
WE WANT TO LIVE IN SECURITY
WE NEED HUMAN RIGHTS
Migrants and refugees from the old fabric of the Peiraiki-Patraiki street
read in Greek on: Movement for the Solidarity with migrants and refugees in Patras