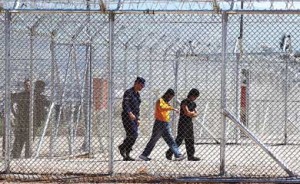 On Sunday (April 29) the first 56 migrants were transfered into the new detention centre in Amigdaleza, Athens. The detention centre consists of 52 containers each built for four detainees. The containers are split into three sections and the area is guarded by the Greek police.
Videos about Amigdaleza Detention Centre


A detention center for undocumented immigrants in Amygdaleza, northwest of Athens, started operating on Sunday, despite vehement protests by local residents and rights groups, with the transfer of dozens of migrants detained over the past few days in police sweeps in central Athens.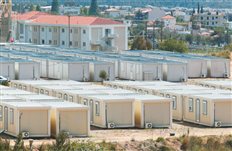 Police said they transfered a group of 56 migrants in the early afternoon and were to move another 164 into the compound late last night.
Meanwhile residents staged a protest against the center outside the police training school which is adjacent to the facility.
According to Citizens' Protection Minister Michalis Chrysochoidis, a total of 1,200 migrants are to be moved into the center until mid-May. Then additional centers are to open in different parts of the country, according to the minister, who insists that this project will solve Greece's problem with illegal immigration.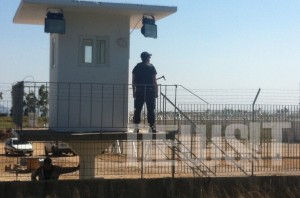 The minister noted, in a posting on his Twitter account yesterday, that the opening of the first facility was a success. "With Amygdaleza we have proven that a government can and should work even a few days before elections," he said. In a separate posting on Facebook he expressed conviction that local residents would accept the center once they see how it operates.
Last week the minister had brushed off objections of local residents to the project, noting that security concerns were not an issue due to the proximity of the police training school to the facility.
In a related development, a spokeswoman for the Doctors Without Borders aid group complained about the health checks being conducted by joint teams of police officers and health officials on undocumented immigrants living in crowded apartments in central Athens. "Public health cannot be safeguarded through police-led inspections and through scaremongering," the head of the group's Greek office, Reveka Papadopoulou, said.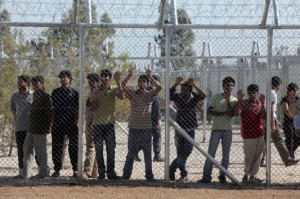 UNHCR upon visiting the new detention centre expressed reservations on the operation of new detention centres for irregular migrants, as they said in their Press Release on May 1: "Although the delegation found that material detention conditions are better in comparison with other migrant detention facilities in the country, UNHCR would like to express reservations as to the operation and effectiveness of the recently announced detention centres.
What remains critical for UNHCR is the procedure, criteria and conditions of police operations leading to mass arrests of undocumented aliens, with a view to transfer them to Amygdaleza detention centre, as well as to other centres that are to be created in the future. This concern is aggravated by the fact that access to the asylum procedure at the Attica Aliens Directorate (Petrou Ralli), as well as at other police directorates around the country, remains today significantly limited. Therefore, among those arrested with a view to be removed from the country, there may be persons in need of international protection, who, nevertheless, were unable to submit their asylum claim.
According to the current legislation, administrative detention of undocumented aliens is allowed only for a limited period of time and only ahead of their removal from the country. In case their removal is not possible (due to legal or practical reasons), the effectiveness of the detention measure is doubtful."
Sources:
NewsIt (in greek) with Video
Transit TV (in Greek)
Kathimerini english Edition
Ta Nea (in Greek)
News IT about the UNHCR visit (in Greek)
UNHCR about their visit in Amigdaleza detention centre