S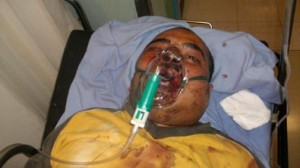 ix people – five men and one woman – who were being questioned by police on Tuesday morning over an attack on a group of migrants living in a home in the industrial suburb of Perama, southwest of Piraeus, were identified by their victims.
According to police reports, the six suspects were among a group of 10 Greeks who attacked the four Egyptian men, aged between 28 and 42 years old, while they were asleep in the their home around 3 a.m.
The attackers used bats and other makeshift weapons to break the windows of the residence and smash two cars and a motorcycle, before attacking the four men and injuring one, the 28-year-old, seriously.
The victims of the attack later identified the six suspects as being among the group that attacked them.