A video of the attack, recorded secretly by a bystander and uploaded onto the Internet, showed a group of young men, most of them dressed in black, running down a flight of stairs at a metro station and attacking someone. Cries of "No, no" in broken Greek can be heard, though the victim is barely discernible, as well as an exchange between two of the assailants.
"Did you stick the knife in him?" one asks. "I shoved it in all the way," another responds.
Representatives of immigrant groups in Athens have told Kathimerini in the wake of an Egyptian man being seriously beaten by a group of assailants that there has been a spike in the number of attacks on foreigners following the May 6 election, when neo-Nazi Chrysi Avgi (Golden Dawn) vastly increased its share of the vote.
"Things have got worse since the elections," Reza Gholami, the head of an association of Afghans, told Kathimerini. "There are daily beatings. These guys don't just want to frighten people, they are hitting to kill. They are hitting on the head, a lot of people are attacking at the same time. Most incidents are not known because immigrants do not notify authorities. They are afraid for their lives or don't have legal papers or lack the funds to pay the cost of a lawsuit."
June 18, 2012: A Pakistani man is attacked by two Greeks in Corinthos. they beat his severely on his head. He has to be hospitalised.
June 15, 2012: Fascists attack a young men who was on his way to work on the weekly market of Keratsini
Four persons attacked Ghoulam Morteza and beat him until he fainted. Nobody helped. When he recovered he went quickly home to hide. Although he has been residing since years legally in Greece, he now decided to leave the country.
June 12, 2012: One More Racist Attack Against Migrants in Perama – One Victim Hospitalized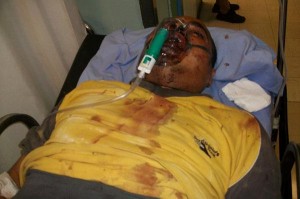 An organized racist attack took place in the early morning hours of Tuesday, when a group of 20 people, armed with iron bars, wooden sticks and batons stormed the home where migrants from Egypt have been living. The incident took place in the industrial suburb of Perama, in the southwest of Piraeus.
Private broadcaster Mega TV said that the attackers first beat up a man who was sleeping on the roof of the one storey house. They tried to storm the house four more migrants were sleeping, breaking windows and doors, also the cars of the family parked outside. One of the victims was transferred to the hospital with serious injuries.
According to MEGA TV, eye-witnesses claimed that the attackers were wearing black blouses and some of them wore masks.
The migrants are from Egypt and work as fishermen. In the house were living one man, owner of a fish-shop, his three brothers and one shop-employee, report NewsIt.gr. They are living in Greece for quite some years.
A while after the attack, police detained 6 people at a nearby square. Six people — five men and one woman — were being questioned by police on Tuesday morning over an attack on a group of migrants living in a home in the industrial suburb of Perama, southwest of Piraeus, in the early hours of the day. According to police reports, the six suspects attacked the three migrants while they were asleep in the their home at 4 a.m., using bats and other makeshift weapons, and causing significant injuries to one of the victims. All six suspects deny the charges (ekathimerini)
June 6, 2012: Jerusalem Post reporter Gil Shefler was assaulted in Athens while trying to film a mob attack outside the National Archeological Museum, one of the city's main tourist attractions.
The incident began around 8 p.m. when a group of about 20 masked men wielding batons started beating refugees, migrants and homeless people in the middle of the street.
June 1, 2012: Migrant Stabbed With a Sword – Five Racists Attacks in the last days
Incidents of migrants stabbed on the streets or at public transport means have increased during the last days, with the latest two attacks to have taken place within 20 minutes. One man from Albania and two men from Poland fell victims to what it seems to have been 'racist attacks'.
Eyewitness describe the incredible attack that took place on Thursday night at Neos Kosmos district of southern Athens.
The first victim was an Albanian man who was penetrated with a …sword by attackers on motorcycles outside the elementary school of the area.
Twenty minutes later after the attack and some three kilometers away, two migrants from Poland were attacked with knives. They are also hospitalized but were not able to testify to the police yet.
May 30, 2012: a man from Pakistan collapsed at the platform of the metro station Agios Nikolaos after he was stabbed.
May 28, 2012: A man from Bangladesh was stabbed by an attacker who was holding a knife inside the Athens Metro in Omonia Square. The attacker managed to flee.