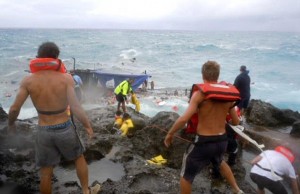 At least 61 sans-papiers died when their ship sank near by the coast of Izmir, Turkey. More than 100 persons were trying to reach the Greek coast on that ship but they came into distress at sea in only 50 metres distance from the turkish coast. The fishing boat they were in struck some rocks and began taking on water, sinking soon afterwards. Among the passengers there were reportedly mainly refugees from Syria, Iraq and Kurdistan while the majority were women and children. 43 of them could be saved until now and 61 were found dead (among the dead are at least 20 children).
tv xs (in greek)
hurriyet (in english)
read the press release of Multeci Der
PRESS RELEASE- Tragedy in Aegean Sea on 6 Sept 2012
It is with great sadness that we, the Association for Solidarity with Refugees (Mülteci-Der), took note of the boat accident that happened this morning near Baradan Bay, Menderes, in Izmir, which led nearly 60 deaths.
About the causes leading to this tragic event, we would like to express the following:
Until 2010, the media frequently reported on the numerous marine accidents in the Aegean Sea. Among them is a large accident that happened near Seferihisar on 9 December 2007, which caused 79 deaths. Sadly enough, the fact that we have not been hearing about similar marine accidents since 2010, does not mean that fatal accidents no longer occur.
As long as human rights continue to be violated, people will leave their homes in search for hope, security and better lives. When FRONTEX and national authorities strengthened border controls, and raised fortress walls on the Aegean Sea, people who were fleeing from persecution started to look for alternative ways. The land border between Turkey and Greece became the new route, and the Evros river has started to witness tragedies. Yet, the number of casualties did not attract the attention of the media, and as such these tragedies were commonly left unreported.
Because of the accident near Baradan Bay, we remember once again that refugees are taking all the risks to find safe shelters. This tragic event must remind us that strict border controls and walls are not the answer.
The victims of this tragedy are reportedly from Syria and Iraq. Since April 2011, tens of thousands of Syrians have been coming to Turkey to seek shelter. The Turkish authorities established tent camps, and repeatedly informed the public that these camps are very well organised and that all needs of the Syrian refugees are being met. We, the Association for Solidarity with Refugees and our partners in Greece, meet more and more Syrian refugees in Izmir, and the nearby Greek Islands. The question we want to raise here is: if the humanitarian conditions in these camps are good indeed, why would Syrian refugees risk their lives to leave Turkey and move onwards to Europe?
Turkey is refraining from granting refugee statuses to asylum seekers from Syria. Furthermore, the temporary protection that is said to be provided in the camps cannot be scrutinized by NGO's nor by any other civil society actor. There is no independent monitoring activity being performed. Protection measures, including that of access to asylum, therefore lack transparency. We want to express our concerns as well about the minimal participation of the UNHCR in the management of the camps. We find it furthermore alarming that the UNHCR has halted the registration and assessment of the cases of Syrian asylum seekers, who arrived to Turkey before the unrest in Syria burst out.
Migrants, asylum seekers and refugees suffer from the lack of protective migration policies, anti-migration approaches and sentiments, and failed asylum systems. Asylum procedures must be accessible, fair and fast. Otherwise, people seeking refuge will be left without other choice than to take life-threatening risks.
ASSOCIATION FOR SOLIDARITY WITH REFUGEES (Mülteci-Der)