Following a police crackdown in Evros region since August 2012 the influx of undocumented immigrants into the country from the land border with Turkey has virtually stopped. Meanwhile the number of refugees and migrants entering the country via the Aegean has skyrocketed, with some 60 percent of total arrivals coming from strife-torn Syria.
In the Aegean dozens of refugees and migrants are arriving on the islands every day. Local authorities there are complaining of a lack of personnel, infrastructure and funding to deal with the people.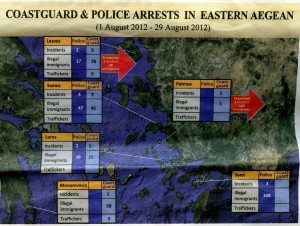 Meanwhile statistics released by the Greek police show that 60 percent of immigrants detained in the Aegean and in the northeastern port of Alexandroupoli, in Evros, since the beginning of September are from Syria. In the same period last year, only 1.5 percent of detained migrants were Syrian.