On Tuesday November 20 some of the migrants detained in Mytilini police station for undocumented entry into Greece through the Turkish border started a hunger strike in order to protest against the humiliating detention conditions and the long detention periods. They struggle for freedom. It is not known how many of them continue the struggle and if some have been already released or not.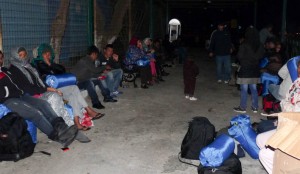 Arrivals of migrants have started again this summer, fastly exceeding the capacities of detention cells in the local police stations of the island. Due to the general order "to keep them as long as possible in detention" overcrowdedness amongst others has been reported throughout the four months to worsen the detention conditions.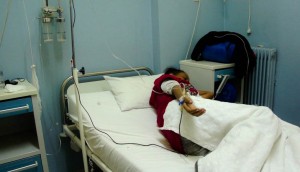 The local authorities even decided in many cases not to arrest the undocumented newcomers, due to lacking space. Therefore a steady number of sans-papiers is trying to survive outside, homeless in the parks and streets without any protection from the worsening weather conditions.
Yesterday more than 25 newly arrived migrants – among them two pregnant women and two small children – slept in the port o Mytilini. One of the two pregnant women had to be transferred to the hospital in a bad health condition. Also the second woman was taken to hospital today. It was impossible to embark on the ferry boat to Athens for the 25 sans-papiers since they lacked registration documents.
The homeless migrants reported that they had been attacked with stones last night. A car arrived late in the night, it stopped and the passengers exited it in order to throw with stones on the exhausted migrants. One of the pregnant women got injured on her head following this racist attack.
This night, the migrants remain in fear again at the same place, since they lack any other alternative.