Syrians are currently the second-largest refugee group to cross illegally into the European Union. Most of them arrive in Greece.
DW's Marine Olivesi accompanied one Syrian-Palestinian family on their arduous adventure.
Sixteen Syrians minus a baby girl are putting their shoe laces back on. The extended family has just been released from the police station of Mitilini, on the Greek island of Lesbos.
"Did you eat in the prison?," asks local activist Efi Latsoudi. "Did they give you food regularly?"
"Bad food," answers one of the teenagers.
"And how many days did you stay inside?"
"Four days."
"With the kids?"
"Yes, with the kids."

One of the women points to Lana, the 10-month-old baby tucked in her mother's arms.
"With all these kids, they stayed four days," the activist repeats to herself. "It's crazy."
Latsoudi is appalled, but hardly surprised. Greek authorities routinely detain undocumented migrants and refugees when they arrive in Greece, and Syrians are no exception.
Last year, Syrians became the second-largest group of refugees to cross illegally into the European Union after Afghans, according to Frontex, the EU border agency. Most arrive in Greece and a growing number of them reach the country by sea.
"The flows suddenly turned last summer from the land border between Greece and Turkey to the eastern Aegean islands," says Lieutenant Antonios Sofiadelis, the local coordinator between Lesbos' coast guards and Frontex.
The construction of a border fence and deployment of 2,000 guards last August in the Evros area triggered the shift in smuggling routes says Sofiadelis. Since then, "illegal entrances have decreased in the land border, but increased dramatically at sea. And Lesbos is the most affected island."
Dozens of refugees arrive every week on its shores. They have to register with the police in order to get the documents that allow them to get on a ferry to Athens.
With the white paper in hand and six children in tow, the Syrians hurry to the port authority and buy tickets for the boat due to depart that same night.
Final destination: Sweden, where the family hopes to return to sense of normality
Once onboard, the youngest refugees quickly figure out this journey will be more recreational than their chilly and shaky ride between Turkey and Lesbos, and start playing hide and seek amidst rows of empty seats.
The adults fall on their seats, relieved and exhausted.
"Tired, tired, tired," says Oum Nour, one of the three Syrian mothers. "The past time is very difficult… I'd like to sleep for a week!"
They left Istanbul a week earlier and Syria two months before that.
Day of loss
Syrians of Palestinian origin, the family has lived in Damascus for four generations. Oum Nour says Palestinians were much better off in Syria than anywhere else in the Middle East. "Our life in Damascus was very good, thanks to God. Better than Lebanon, better than any city for Palestine. Syria is our house, our job, schools for our children, but we lost all this."
The day they lost it all was December 16, 2012.
That's when rockets hit Yarmouk, the Palestinian neighborhood in Damascus and killed one of their relatives. The attack was the first direct airstrike by the Syrian regime in this area and marked an ominous turn for Syria's half-million Palestinians.
Indebted to their host country, most had tried not to get dragged into the civil war at first. But when the Free Syrian Army gained ground in Yarmouk last fall, the regime struck back and Syrian-Palestinians were forced to take sides. Hundreds fled.
Oum Nour and her family now hope to reach Sweden, the only European country along with Germany to grant automatic protection to Syrian refugees. (Sweden and Germany have taken in the lion's share of the 33,000 Syrians who have fled to Europe so far, each hosting around 9,000 Syrian refugees.) Oum Nour hopes to get a free home and health care there, things Turkey couldn't offer.
But many get stuck in Greece longer than expected.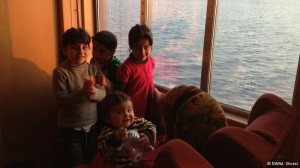 Stuck in Greece
Ramzia and her five children arrived in Greece in September 2011. The Syrian uprising hadn't yet escalated into a civil war, but her husband was wanted by the regime after organizing protests. Ramzia says the army visited her one day and threatened to arrest the whole family.
She fled to Turkey with her children shortly after but didn't want to end up in a refugee camp. They managed to sneak into Greece, hoping to eventually reunite with a cousin in Austria. But the whopping price tag thwarted their plans: getting smuggled from Greece to Italy to Austria would cost the family up to 10,000 euros.
Ramzia and her children had overstayed their deportation notice by 16 months when her phone rang one February morning. On the line, her 17- and 18- year-old sons.
Ramzia's two oldest sons were arrested last month
"'Mum, we've been arrested,'" they said. "They told me to come and bring the document the police gave us when we entered Greece. I went there with the paper. I thought that would help but it made it worse. The policemen started shouting. They said we exceeded our time here. I started to cry… I explained that my husband is not here and that I need my sons. I was hoping to see a woman so she could feel sorry for me, but there were only men and they didn't care. They told me: Go. We're keeping your sons."
Community leaders in Athens estimate that over 1,000 Syrians are currently detained across Greece for overstaying their return order. They say thousands more linger without papers but with little chance of changing their status in the country.
Human Rights Watch has highlighted the refugees' staggering odds in the Greek asylum system. Nearly 10,000 Syrians have entered Greece since 2011 but by the end of last year, only six of them had been granted refugee protection in the country, the NGO says.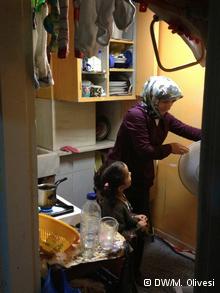 Broken system
Spyros Rizakos of the refugee support group AITIMA says some of the asylum rules have been amended over the past couple of years but a more comprehensive reform, promised time and again by Greek authorities, is yet to come. Until then, Syrians are facing the same broken system that failed thousands of Afghan and Iraqi refugees over the past decade, and scores of refugees are effectively shut out of the asylum process.
AITIMA's lawyer delivers mixed news to the Syrian-Palestinian family who came to look into their legal options that day.
The good news is they can kick-start the asylum procedure for the family because it's considered a "vulnerable case." AITIMA can refer them directly to the police and set appointment dates for the 16 of them before the end of March. It might take years before asylum is granted, but in the meantime they will at least have legal status in Greece.
The bad news: Some family members might fall through the cracks.
"Some of the children in this family are over 18," explains Rizakos. "We will refer them all to the police, but we know they won't accept them." Rizakos says they are bound to join the ranks of Greece's undocumented. "Absurd of course, but what can we do?"
Abed, 17, reunited with his three-year-old cousin Omar who suffers from heart disease
Ayman, the oldest son of the family and one of the four children over 18, lets the news sink in silently.
Earlier that day, he went back to the port of Piraeus to pick up 10 more relatives who made the exact same journey.
On the train to downtown Athens, they swapped stories about their odyssey. Ayman's uncle explained the rubber boat capsized about 20 meters off Lesbos. Forty-two refugees were onboard. Everyone scrambled onto the shore.
Just a few days later, six Syrians died in a shipwreck while attempting to reach Lesbos. The UN Refugee Agency says a pregnant woman and three children were among the victims.
"Why should we risk our lives to reach Sweden?" wonders Ayman. "If Sweden recognizes us as refugees once we get there, why can't we just apply at their embassy?"
"Everyday I think about this, and there is no answer."