Bridge to nowhere: Syrian refugees in Greece
Abuse and a cash-strapped government make it a difficult destination for those fleeing the war.
fotos: anna psaroudakis
Athens, Greece – Passage to Greece was probably easier for Daoud Abdo and his family than for most Syrian refugees. It took the family of five just two weeks to travel by bus to Istanbul and cross the Evros river, which forms Europe's southeastern-most land border. But the journey was still fraught with danger.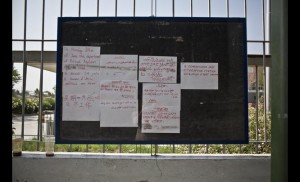 Daoud said he and his wife fell off a platform over the river that they were walking across and into the marshes. It was raining and the swamp surrounding the Evros was deep. Daoud is convinced they would have drowned that day, were it not for a group of refugees from Bangladesh.

A Turkish human trafficker who led them across with 70 others, barked, "Leave them! Leave them!" But Daoud says "the Bangladeshis ignored him and helped us out".
That was only the beginning of the family's ordeal after paying €18,000 (US$24,000) to the traffickers to take them to Western Europe. Once in Athens, they spent a full year sleeping in city parks and on the street, only intermittently offered shelter by those they had paid.
Sometimes shelter was offered on condition that they prostitute their eldest daughter, Suzin, a girl with intelligent eyes and a coy smile, who was then 14. It was an offer they never accepted. They soon discovered the deal they had struck in Syria's city of Aleppo would not be honoured without more money. Penniless and jobless, they were stranded in Greece.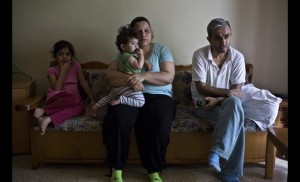 For 48-year-old Abdo, once a well-to-do lawyer who used to undertake government work and owned property in Aleppo, it was a severe blow. At times, he sounds almost suicidal.
"I wish I had died there. It would have been better and easier for me," he says. "The most difficult day for me in Greece was when we were homeless and all my children were crying because they were hungry and I couldn't feed them."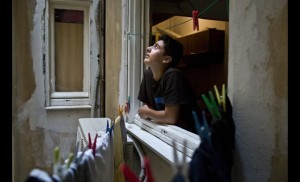 Everything gone
Abdo says his property has been mostly destroyed by the war in Syria, and he would never risk going back.
"There is no peaceful place left in Syria. Because we are Alevi, people hate us," he says, referring to the minority tribe that, since President Bashar al-Assad's father became president in 1971, has held sway over the nation of 22 million.
"Before the hate was hidden," he says. "Now there is constant pressure from all the villages to leave." His wife's family has scattered to other countries. "I will not send my children to their death," she says when asked if the family would ever return.
Six months ago they were picked up off the street by Coptic Church members and put up in an apartment owned by the church, which also feeds them on a daily basis.
Yet life in Greece remains difficult. While the war rages, Greek authorities will not deport Syrian refugees, but nor will they support them in any way. Without residence permits, it is next to impossible for them to work legally. Many are reduced to begging. Others live off the charity of the Greek Orthodox Church and community organisations.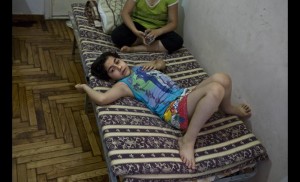 It is easy to be picked up during police stop-and-search operations targeting undocumented migrants. Syrians can end up jailed for months while their nationality is verified. Once inside a detention centre, police brutality is all too frequent, as Juan Akash, a 35-year-old journalist, discovered.
Police picked him up with a group of Syrians trying to cross over to Italy from Greece's west coast at the beginning of the year. He was crammed into a cell with 56 others.
"We didn't sleep for three days," Akash says. When police bused the inmates to other precincts, "the senior officers took me out and started to slap me on the face. Then police took out sticks and started to beat me. On the way down the stairs, they beat me behind the knees."
Akash was taken to Korinth detention centre, one of six facilities police have created to house those awaiting deportation. "It is not a human place," Akash says of the former army camp where he spent close to 50 days before being released.
During that time, he says he witnessed frequent beatings of Syrians and other nationals. He says an Afghan prisoner who refused food was beaten in full view of the others as an example.
"He was on the floor, not moving, completely full of blood. I was watching from the window. I could not see his face, only the blood," Akash said.
Migrant abuse
"Police brutality is a fact," says Vasilis Kerasiotis, a human rights lawyer who works with the Greek Council for Refugees, a refugee-advocacy group. "There is no eye, no non-governmental organisation constantly inside the detention centres."
Greece has suffered a severe backlash against migrants, legal and illegal, as a six-year recession has driven unemployment to 27 percent. Coupled with this, Greece has over the past two decades become Europe's frontline immigration state.
According to Francois Crepeau, the United Nations' Special Rapporteur for the Human Rights of Migrants, 85-90 percent of "irregular migration" into Europe passes through Greece. The UN often decries conditions in these detention centres. Crepeau called them "shocking" and the detention of children and families "utterly unacceptable".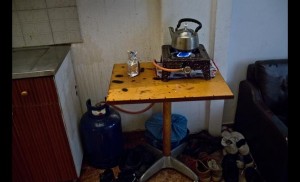 Police brutality is a fact. There is no eye, no non-governmental organisation constantly inside the detention centres.
Vasilis Kerasiotis, human rights lawyer with Greek Council for Refugees
The financial burden of policing external European borders and the legal task of separating refugees and legitimate asylum seekers from economic migrants has come as a shock to Greek authorities, which estimate the total cost at some $650m a year – an enormous sum in light of the fact that the Greek government can barely pay pensions or finance public hospitals.
"The European contribution is €230m. We are grateful but … I am afraid that it is not enough," Greece's public order minister, Nikos Dendias, told European officials last month.
Meet the Hiluhs
The war in Syria has exacerbated the problem enormously because it has produced close to two million refugees in just a year. Thousands have elected to go to Europe, but end up living in Greece.
The Hiluh family are a case in point. They applied for political asylum, a notoriously difficult process in Greece, where applicants must pass muster through two committees. Until now, the process has taken up to three years.
"Average approval rates are 0.25 percent in the first committee and about nine percent in the second committee," human rights lawyer Alexandros Konstantinou says.
Last month, Greece finally overhauled its asylum process, taking it out of the hands of the police and assigning it to a dedicated Asylum Service in the interior ministry. In its first month of operation, the service received 878 applications, 51 of them from Syrians, and made initial rulings on 46, suggesting it may live up to its ambition of processing applications in less than five months.
The service is also slated to open three border offices, making the application process more accessible for many. Maria Stavropoulou, the director of the new Asylum Service, says her office will also recognise the right of applicants to work legally. "Our law says that anyone with international protection has the right to work. The real problem is the level of unemployment in our country."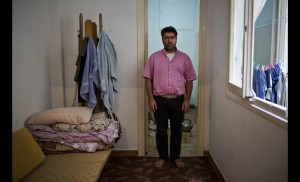 However, the Asylum Service won't be processing the backlog of at least 25,000 valid applications that are still languishing. Those will remain in the hands of the police.
'That's your problem'
To maintain asylum applicant status, Idriss and Roshan Hiluh had to show up for an interview once a month, despite Roshan's advanced pregnancy.
"Two weeks ago, we missed the interview because my wife was inducted into hospital for anaemia," says Idriss Hiluh, a cabinetmaker from Aleppo. "When we returned to immigration police we were given deportation papers and lost our asylum status. We said, 'what shall we do?' They said, 'That's your problem.'"
During their harrowing trip to Greece, the Hiluhs saw just how reluctant Greek authorities were to admit or help them. As they crossed the Aegean Sea at 2am in an overfilled rubber dinghy, a Greek coastguard vessel approached.
"The coastguard told us to go back," Hiluh says, "but we had a group of Algerians among us who said, 'this is our fifth crossing and we are not turning around.'"
To make the point, the Algerians began to knife the dinghy one compartment at a time until the Hiluhs and their four children, including an infant, were in the water. "Only then did the coastguard pick us up," says Hiluh.
Like the Abdo family and thousands of others, they were stuck in Greece without the money to go deeper into Europe or feed themselves.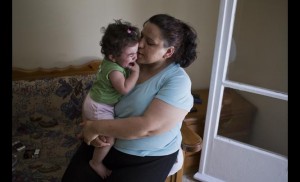 But days after an Al Jazeera interview, Roshan Hiluh managed to leave Greece for Switzerland. She had her baby there and now plans to file for family reunification. But Idriss Hiluh articulated the alternative in Greece. "What shall we do? Await a slow death?"