300 persons in a sit-in, more than 150 on hunger strike, 45 children, at least 9 collapsed, 8 days sit-in, 3 days hunger strike
In a bid for better living conditions, temporary working permits and medical care, more than 200 Syrians – among them many families with small children – fleeing the war-torn country and seeking asylum in the EU, have begun a hunger strike in Athens' main square. Protesters began to gather on Syntagma Square on November 19, camping out and sleeping on cardboard boxes and in sleeping bags before staging the hunger strike on Monday. Dozens of Syrians are living homeless in the streets of Athens and Thessaloniki without any support. The demonstrators, many of who sat with masking tape covering their mouths, called for the Greek government find a way to solve the refugee crisis. Read their declaration: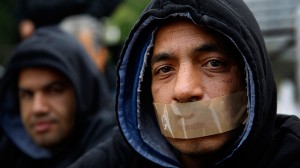 SYRIAN REFUGGEES IN GREECE AT SYNTAGMA SQUARE
We are the Syrian refugees who are standing from 19 November 2014 outside of Greek Parliament in Athens at Syntagma square.
We started hunger strike on 24 of November.
We demand full asylum rights as refugees.
We escaped from death in Syria. We escaped from death passing the Aegean sea. We want to live with dignity in Europe.
Our demands are the following:
· Open the boarding gates by affording us proper travel documents to enable us to travel abroad, inside European Union.
· Support the Syrian refugees who are blocked in Greece. Book ships to transfer them to the countries which have already announced that they are ready to accept them.
· Support Syrian refugees with full rights of refugee which include: regular salaries, shelter, food, health insurance, education, reunification of their families, and work permit.
We call the Greek government to solve this issue immediately.
We appeal to Greek Parliament to support our case.
We appeal to Greek people for solidarity to our demand for full asylum rights.
Blog by the syrian refugees in greece
read also in english vice news
read also in english irish times