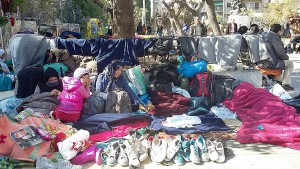 "We cannot survive here! Please reopen the border! We have disabled people with us, babies, and pregnant women. In Greece there are no facilities!", says Mohsen from Afghanistan. Sitting next to him in a wheelchair is his 85 year old father, who collapsed. Some meters away -on a blanket on the ground sits the rest of the 11-member family. They came from the city of Herat in Afghanistan. "Our plan is to go to Germany, to start a safe life there. But now I cannot think anymore. I am totally confused", says Mohsen.
The famous Victoria Square where thousands of refugees all over the world passed the last years during their risky trip to northern Europe, looks like a war zone. Since last Sunday when the Western Balcans under the instructions of Austria decided to close the border for any refugees other than Syrians and Iraqis, this small square in the heart of Athens, is again the symbol of the failure of European migration policies. It shows in the most painful way how unprepared Europe was to this hugest refugee movement since second world war. More than 25,000 refugees were hemmed in Greece according to estimations on Saturday the 27th of February. All over Greece refugees sleep in parks, they are homeless heading on foot northwards. At the the same time, approximately, another 2,000-3,000 refugees arrive daily to Greece.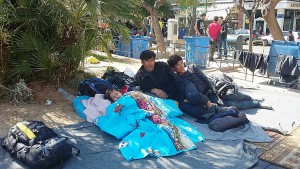 On Victoria Square babies are sleeping on the dusty floor on dirty UNHCR-blankets, people are asking for water and food and members from big and experienced NGOs are desperately running up and down. ""Milk, bread, blankets and clothes. This is the only help we can give them. What else can you do?" is asking a man of an international organization who seems highly stressed. Next to him a Greek couple is giving chocolates to some children. Adults are running hungry after them in order to take also a piece of chocolate. Retired Mr. Nikos is distributing biscuits in the other side of the square with a smile on his face: "I cannot see their pain without doing anything. My pension is 420 euros. I spent 30 euros to buy biscuits for the children".
M. a 23-year-old man from Afghanistan is looking at the families next to him. Under a tree in the other end of the square they put some cartons and blankets on the cement floor. In the night they will sleep very close next to each other in order to warm their babies. "In the dark I am afraid. Drunk people come in the square, they stole my shoes last night. I am afraid", said M. a 21-year-old woman from Afghanistan. She is holding her 3-year-old son in her arms. He coughs loudly again and again. "I don't care about us men, but about all these babies and woman. We just survive because local people are helping us with clothes and food. But we need more. There is no toilette, no shower here. Most people didn't take shower for more than 5 days. And their babies, they also need a bath. There is no public service here. There are no facilities".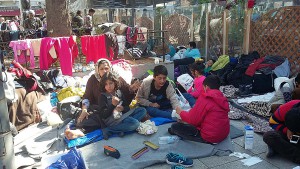 An Iranian refugee some meters further away held his head skeptically in his hands. "We cannot stay here. We know that Greece is in an deep crisis and cannot help us". On Saturday night more than 7,000 refugees where in Idomeni, at the Greek-Macedonian border. The Macedonian police just let 300 of then cross. According to the Greek police, the day before, Friday, no refugees passed. Macedonian police said 22 could pass, a fact the Greek police denied. On Thursday some 100 could pass and Wednesday 250. The mass transit centers newly created in Greece and run by the army are already full. About 2,000 are now in Elliniko stadium, 1,200 in Elaine's open camp, 1,200 in Schisto transit centre, more than 1,000 in the gate of the port in Piraeus, 2,000 in Diavata near Thessaloniki. Only on Friday 1,400 more refugees arrived on Lesvos island and add up to the high number of refugees that is already caught up there since ferries were halted a few days ago.
The humanitarian crisis in combination with a lack of adequate and sufficient reception solutions and the closure of the Macedonian border are pushing the refugees in the hands of the smugglers in order to finally exit Greece somehow. The price for the hidden crossing from Greece to Albania or Italy had doubled to more than 4,000 Euros within only a few days. Afghans build up for more than 30 percent of the refugees that arrive currently in Greece and more than 70 percent of them declared fleeing from war or violence according to a recent UNHCR study. Within the last two days there have been suicide attempts by Afghans, street blockades and other forms of protests. Thousands of refugees can be found on more than 18 different stations from Athens in the south up to the Macedonian border.
M. the 23 year old man from Kabul doesn't want to think about the possibility to pay smugglers. "I don't have money for that. But beside that I don't want to go illegal. I've had enough of this! I already saw 5 dead bodies on my escape from Afghanistan until here."