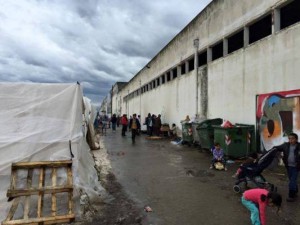 About 400 refugees from Syria and Afghanistan are currently hosted in the tent camp near the former Roca factory in Larissa half of which are children. Now refugees sent a letter demanding for better conditions.
15/3/2016
To: Representatives of United Nations, the Mayor of Larissa city and his assistants, the Head of Police of Larissa and the representative of volunteers people of Larissa
We – Afghans refugees – resided in Pireaus port of Athens city under Mr. Satery's management. After a few days responsibles of the camp promised us that we would be transfered to a camp in some building in Larissa city which has sanitary facilities like bathrooms, showers and so on but unfortunately, they lied to us. That's why refugees don't believe responsibles and top brass of Greece goverment.
Right now this camp which is located near Roka factory doesn't have any sanitary facilities necessary for living which is hinted in enclosure of this letter. They suggested us to be transfered to a military camp about 12 kilometer far away from Larissa city by the name of Koutsochero, but we didn't agree to go there because that camp is located very far from the cit,y it is located in a mountainous area, there are no sanitary facilities and it is very far of the sight of mass media, which is important because journalists are broadcasting and letting people know what is happening around us. Most important, we are human and deserve to live and we are not prisoners who should be transfered to any military camp far from the city.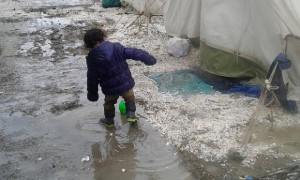 At the first we refugees request from the top brass and any responsibles to tell the EU that we want to reopen Balkan borders and we have no choice but to go because we were threatened to death and we didn't have any freedom as well as no security in our country. Also most of our families sold anything they had and cannot return to their country anymore.
We request from the responsibles to prepare the sanitary facilities and necessary materials for us until we reach our fate in this camp, otherwise we demand to transfer us to another camp in the city with better living conditions and more proximity to mass media representatives.
In conclution, we refugees appreciate the authorities, top brass and responsibles of Greece country and the people of Greece as well as all volunteers who are hospitable and try to prepare suitable living conditions for us.
– With Respect –
Afghan migrants resided in the city of Larissa camp near Roca factory
Enclosure
The problems in the factory are as follows:
1. The weather is cold and we are living in tents, which are not heated. Because of rain the water flowed in the tents.
2. Hygienic infrastructure like toilets and bathrooms are too few and there is no hot water. There is a high danger of mosqitos.
3. There is no light inside the tents so it is very dark and there is no facility for charging mobile phones and no internet connection.
4. Medical services and medicine are insufficient while all of families and children are sick. The doctors don't have any injections for patients even in serious and specific conditions.
5. Because of the far location of this camp, we are not allowed to go out and if we still do so, we will be forced to go back by police.