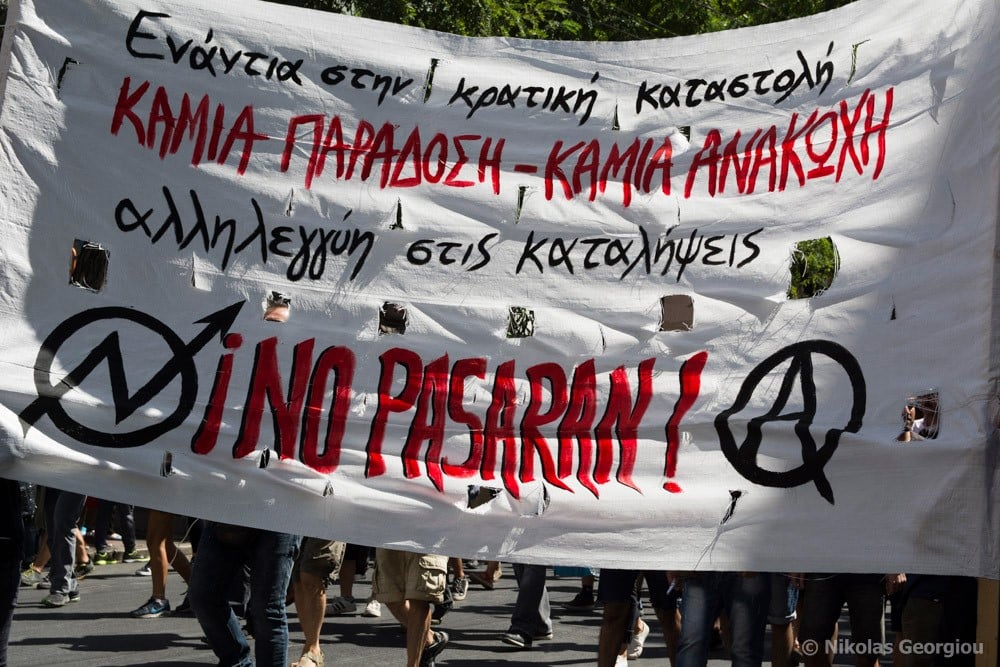 In a wave of sweep-operations against refugees and migrants the new right-wing government of Nea Dimokratia (of July 7th) within the last month has evicted five refugee squats and announced more will follow. Meanwhile, nothing is done to improve reception conditions in the official camps – in contrary things get worse. The state literally denies dignified housing and integration to thousands of refugees and their kids. New camps built; old camps re-opened or expanded; more tents set up… this is how the state deals with protection seekers. Not to mention, the undocumented who are threatened by arrest, detention and deportation.
"They are trying to bury us but they forget that we are seeds, that we are more than just a number, more than an occupied building, we are a community."

5th school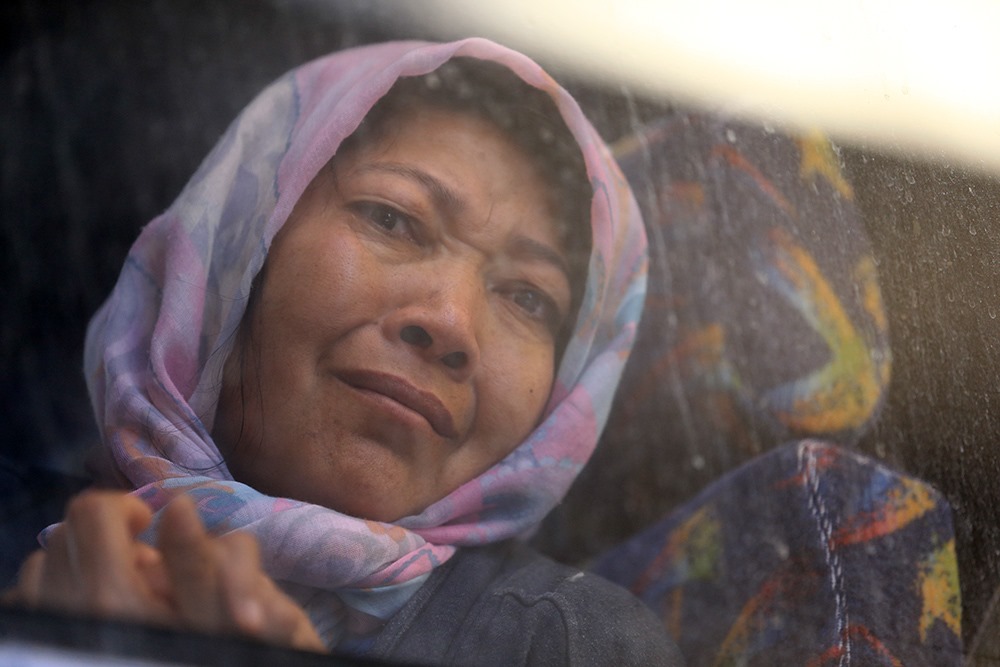 On 23 September, 143 refugees and migrants were evicted from 5th school in Exarchia. During the sweep operation Photoreporter Alexandros Stamatiou got arrested for "breach of domestic peace" during his professional news coverage, as the Greek Union of Photoreporters denounced, "a fact that does not remind anymore of a democracy". The raid in the building housing many families with kids was based on a complaint filed in 2016 by neo-Nazi and former parliamentarian I. Kassidiaris from Golden Dawn, as EFSYN newspaper uncovered.
"It was this that triggered the prosecutor's intervention and the recent sweep operation during which nothing was found. As it turns out, the "law and order" doctrine even takes advantage of the neo-Nazis' racist actions."

EFSYN
The Greek Federation of Secondary Education State School Teachers (B-ELME) denounced the violent sweep and the arrest of the photoreporter. As they state, many of the 56 kids residing in the 5th school squat had been visiting public schools in the neighbourhood of Exarchia and have now been once again uprooted and out of the educational system since their transfer to distant refugee camps. According to the Federation, the 5th school was closed and left empty for some years by earlier governments, until being turned into a refugee housing space, after the fusion with another school – a procedure which in the year 2013 led to the closure of three schools alone in this area.
"The State must provide decent living conditions within the urban centres for refugees and migrants, the vast majority of whom are victims of imperialist wars, with equal access to health and education. Children – without any exception – have the right to education in public schools. We are opposed to the long-term entrapment of thousands of people who were forced to get uprooted from their countries, through the flagrant EU Turkey "Deal". We are opposed to the totally unacceptable living conditions in the hot spots on the islands and in the camps in mainland Greece. The "law and order" that the new government is trying to impose on human souls, trampling on labor and trade union rights, is targeting universal human values ​​and achievements."

Greek Federation of Secondary Education State School Teachers (B-ELME)
Also the parents association of 35th and 36th primary schools publicly demanded their kid's school mates back.
"In recent days, buildings in downtown Athens have been evacuated where refugees had found shelter, waiting for what law, what government, what bureaucracy will proceed their asylum procedures. Their children were enrolled in the schools of downtown Athens, trying to integrate, learn the language, make their lives a normal one even under these conditions. But while it is the state that should ensure that all children are enrolled and attending school, while having ratified the International Convention on the Rights of the Child, it is the state that most violently deprives them of their rights, it pushes them to the margins, it does not respect their fundamental rights, it does not respect their existence. Because the school year has begun and children are removed from their schools without any notice, without even registering them and transferring them to other schools.

We want our children's classmates back. Because it is the obligation of all of us to finally ensure a safe environment for them. Thanks to them many of the city center's schools were actually not closed. Because political games cannot be played on the backs of children and oppressed people!"

Parents Association of 35th and 36th primary schools
On 19 September already 269 people (46 families) had been evicted from the two refugee squats Jasmin School (also known as 2ndschool) and Acharnon22. These raids followed earlier evictions of Spirou Trikoupi 15 and 17 on 26 August where in total another 143 people had been residing. Following the raids, the former "homes" got sealed up with barbed wire; windows and doors locked with bricks and cement and people taken away from their neighbourhoods.
Mostly families with kids but also many homeless single men fleeing from war and conflict areas to Europe to find safety, have been attacked during these raids and were taken away their homes and communities. Protection seekers already traumatised found themselves in early morning hours waking up by the shouting and threats of armed special forces, the massive police presence invading their temporary "homes" supposingly in order to "combat drug trade and lawlessness" – as government and mainstream media propaganda frame it. Refugees and migrants were transferred first to Petrou Ralli Aliens Police Directorate for hours of control. The ones with papers from Trikoupi Squats were temporarily transferred to an empty building, to Schisto camp and then spread to different camps. In Schisto they stayed outside in small tents for days. In Eleonas eight persons shared one room in a container "piled up like animals in a farm". Many rejected a transfer to distant camps such as Katsikas in the Northern Greece or Koutsochero near Larissa (also to Eleonas, Skaramangas, Thiva and Lavrio) and are homeless again today. The ones from Jasmin school and Acharnon22 were brought to the newly established state-run tent camp in Corinth from where they will be reportedly divided likewise the others to other camps all over mainland Greece.
Corinth

Corinth

Corinth

Schisto

Nea Kavala
People transferred to Corinth reported of miserable conditions as they were placed on a dusty field with 16 rub halls (big tents). Some already returned back to Athens, as they couldn't follow their daily lives from such distance, with their kids being subscribed in downtown schools, medical cases being followed by doctors in the capital, people having found jobs there and legal cases being proceeded in Athens asylum service and the diverse embassies located in the city. Also residents of 5thschool residents were brought to Corinth. The undocumented from all squats were arrested and brought to the pre-removal detention centre Amygdaleza. (10 from Trikoupi Squats, 14 from Yasmin and Acharnon 22 while two families and 19 persons from 5th school remained in Petrou Ralli for their papers – information by 24. September) Reportedly, some of the detainees in Amygdaleza started a hunger strike.
copyright: Marios Lolos

copyright: Marios Lolos
"Most of us had to move to places around Thessaloniki, over 400 km from here. We don't want to do that. They are playing with us. They have evicted us from our house and they have destroyed it, but they will not also take away the life we have managed to create here in Athens. Our children are going to the school in Exarcheia and we refuse to make them leave it and have to adapt to a new place once again. We want to stay here. We answered them that we will not go anywhere against our will. We keep strong."

Trikoupi 17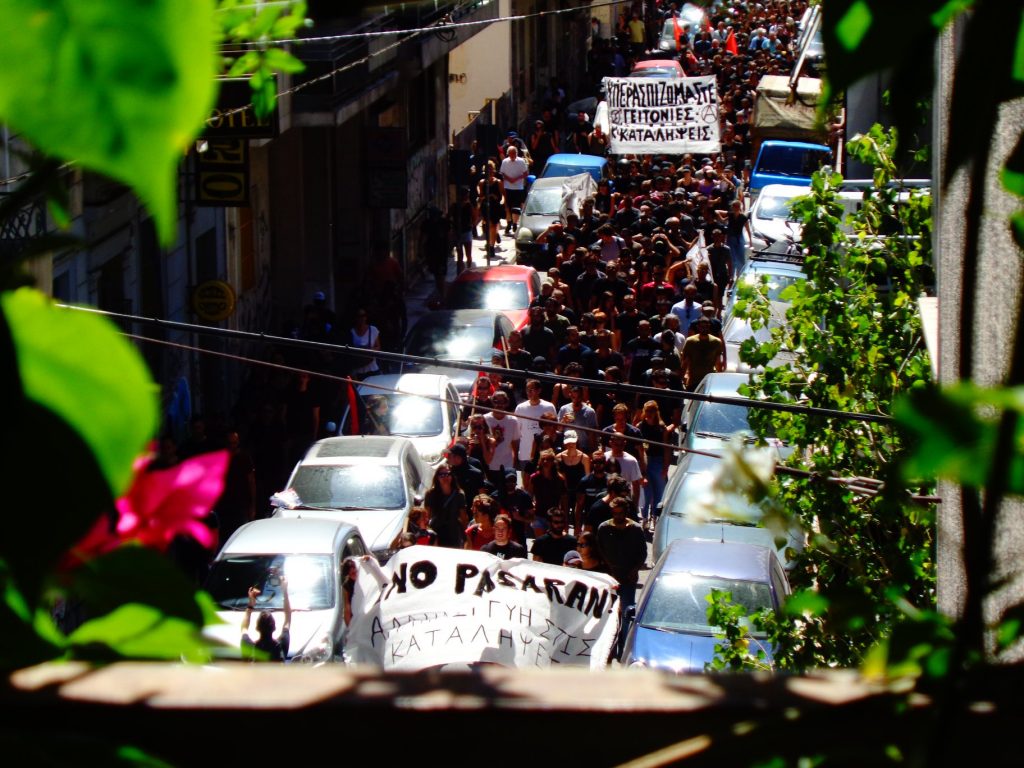 "We are scared about our lives and our freedom and some of us have chosen to stay on the streets to avoid being chased and arrested one more time. They have tried to divide and separate us, but we continue to struggle together. They destroyed our home, but the family that we have created in Trikoupi's community remains united. Against their repression, solidarity is our weapon!"

Trikoupi 17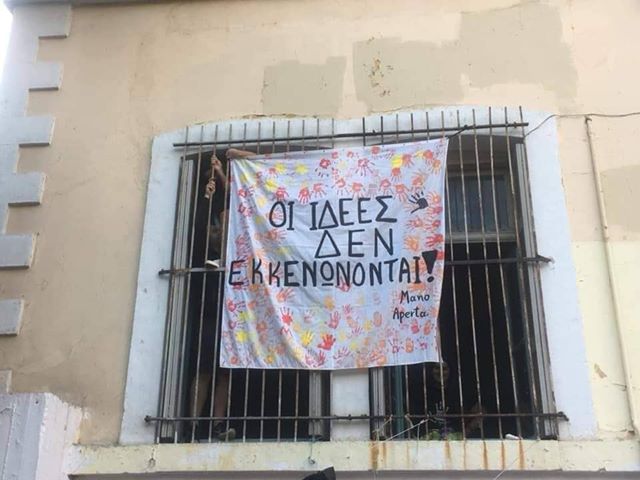 The governments attacks against refugee squats have to be understood in the broader frame of a (re-)introduced anti-migratory policy, increasing police repression, institutionalised racism and right wing populism which is used against any from of solidarity.
With more than 29.000 refugees and migrants trapped in the Aegean Islands, of which 12.000 alone try to survive currently in the hell of hotspot Moria / Lesvos and a 5-year-old boy just lost his life there while playing in a carton box (24. September)…
With 5.000 who could actually officially leave the islands but have nowhere to go…
With more than 88.000 refugees and migrants currently stuck in Greece most of which are dumped in overcrowded camps far from local society and under squalid conditions…
The focus of the state is to impose "law and order" in a hypocritical fight against "crime and lawlessness" while actually sacrificing what has been hardly achieved: peoples' freedom, dignity and respect.
We denounce the attacks on refugee squats in Exarchia and elsewhere! No Pasaran! Solidarity will win!
Employ teachers, not police officers!
Close the camps! Open homes!
For freedom of movement of all and the right to stay!
NO ONE IS ILLEGAL!
W2eu / infomobile greece
For further information read following statements: