On April 22, 2017 we celebrate together one year of solidarity with our CP-family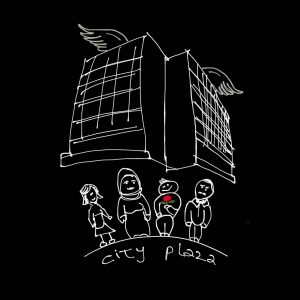 City Plaza today is everywhere:
In Greece, Italy, Spain, France, Germany, Switzerland, Belgium, Austria, Serbia, Sweden … !
It is not just a building, but a home defined by its people. From here solidarity is spread like seeds we carry in our small luggage to continue the struggle for equal rights everywhere we'll go.
Former residents now living in other countries have collected songs and wishes as a present for City Plazas birthday. Their thoughts were brought together once more in a small booklet. It is dedicated to the ones who are still on their journey, as well as to the ones that are struggling to arrive and the ones who stand with them. It is dedicated also to the ones we lost on this road but who will be in our hearts forever!
We will stand always together and we shall never give up!
OPEN HOUSES! SMASH BORDERS!
FREEDOM OF MOVEMENT FOR ALL!