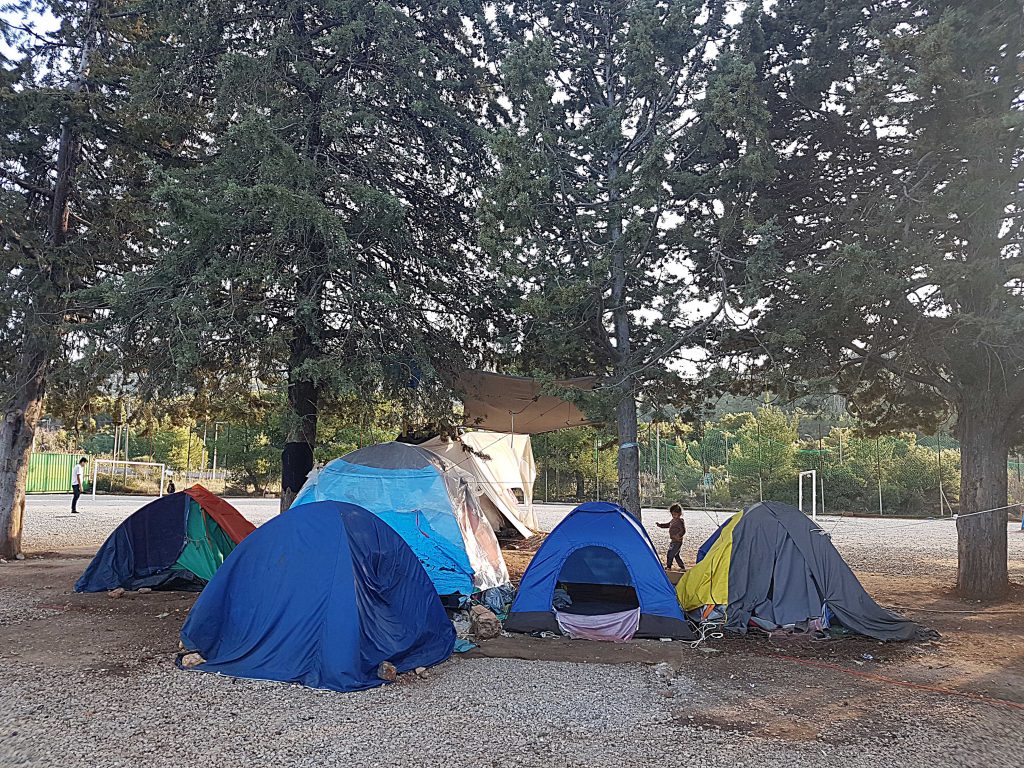 Hello from the (old) Malakasa refugee camp and our best wishes to all people outside,
We write this letter to ask you, the ones struggling to offer aid and assistance to people in need, to not leave us the people of Malakasa camp alone, especially during the COVID-19 quarantine!
It is very difficult to live a life in the Greek camps in general. We have many problems, but we will mention only a few of them, that are putting a lot of pressure on us now:
1. Lack of sufficient medical services inside the camp, specifically for those with Covid-19 symptoms and those with chronic and serious diseases or the mentally ill who need regular follow-ups and medication
2. Lack of sufficient medicine in the camp, for example: Depon, Amoxicillin, Paracetamol. During the quarantine we are not allowed outside. Most of the times also before the pandemic, we were told to buy our medicines ourselves. Most of us have no AMKA. Many faced problems already before the lock down as they lack money to buy anything still waiting for their Cash-Cards. Now, we cannot even go out to a pharmacy. We depend completely on what medicines we may be given by the camp doctors and these are highly limited! In the afternoons and weekends there is no doctor here anyway. We feel unarmed in this worldwide struggle for health.
3. Lack of secured access to clean running water inside the camp and lack of drinking water. How can we follow the preventative measures explained to us if we have not even that?
4. Lack of safety and security for everyone in the camp, particularly at night. There are police outside the camp to hinder us from going outside, but inside we are left alone when no organization is present during the nights and weekends. We worry a lot for the safety of our children specifically! We are locked-up, peoples' psychology has become worse and we don't know who to address during an emergency.
5. Lack of camp wide stable WIFI access (internet), so that people can be informed about the daily news, can contact the emergency number handed out by the camp management. We also need to keep up our contacts to the outside world and specifically to our families whom we worry about in these times as you worry for your beloved ones.
6. Lack of access to ATMs and Western Union and shops. During quarantine they do not give us permission to exit the camp so the ones with Cash-Cards cannot withdraw money from banks any may lose the last charges and the others cannot receive money from relatives in other countries. Many of us are left without any cash. We also cannot purchase anything from the shops inside the camp. The shops have doubled their prices since the lockdown.
7. Lack of vitamin food products and insufficient supply of basic food products. The food baskets we receive once a week do not contain fresh fruits and vegetables. We need vitamins for our kids, the elder and the sick at least to be healthy and strong and resist the virus. Also, we do not receive sufficient basic products such as oil, eggs and flour in order to secure sufficient meals.
8. Lack of masks, gloves and disinfection sprays. We were not handed any materials to protect ourselves from getting infected by the virus, while we are more than 1,800 persons locked up together and living side by side with an unknown number of infected. Among us are many highly vulnerable persons: elderly, kids, persons with Diabetes, heart disorders and other chronic diseases. We need masks and gloves or disinfection sprays – at least to protect the vulnerable among us.
Those of us who live in tents face even more problems:
9. Lack of adequate shelter. More than 400 people (among them many kids) sleep in summer tents and even if we assume that there is no other solution than these tents for newcomers, while the containers (prefabs) have exceeded their capacity, there is also no suitable place for these tents where they could be protected from the weather AND be in safe distance to each other. Even now during the pandemic, several people are sleeping in tents which are placed in a very close distance to each other inside a big tent and another building. Others have placed their tents under the sky and suffer from every rainfall and storm. We cannot practice social distancing here! We cannot protect ourselves from the cold like this! Many of us are sick and we cannot understand if we have a cold due to the bad living conditions or if we got infected by the virus.
10. Lack of hot water in the commonly shared showers and water taps. How we should disinfect things like our plates or clothes without hot water? How should we use the soaps, when there are water cuts? How we should keep distance from each other when water taps are placed all together and next to each other?
11. Lack of clean and functioning toilets. The filthy toilets people without proper shelter have to share are a further source of infections.
The reason why many of us are desperate to go out of the camp is because we need help. If we cannot keep our families safe, clean, healthy, protected from hunger, we struggle for more basic things than just against a virus.
We ask you to stand in solidarity with us at least as long as we cannot go out and completely depend on what is given to us.
We urgently need the following items:
Masks (at least for the infected and the vulnerable)
Gloves or disinfection sprays
Antipyretic medication for adults and kids such as Depon and Depon Syrup (for kids)
Fresh fruits and vegetables (potatoes, onions, tomatoes mainly)
Oil, flour, eggs
Pampers and baby milk
Sincerely,
Mothers of Malakasa refugee camp
(21.04.2020 – after the extension of our quarantine and lock down that started on 5 April)