"Support our demands. Please, don't leave us alone."
The survivors and relatives of the victims of the Farmakonisi shipwreck are shocked as Greek authorities closed the investigations on the shipwreck of 20 January 2014, where eight children and three women died. Their vessel sank near the Greek island Farmakonisi while being towed by the Greek Coast Guard, which seems had been a pushback operation in breach of international law. As the investigation into the case has been closed a court procedure will not take place.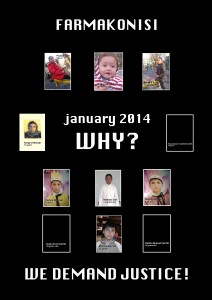 With this statement, the family members of the victims, including the surviving fathers and husbands, appeal to the European public. They demand clarification and justice for the dead:
Farmakonisi, 20.01.2014: Why?
We are very sad and shocked about the outcome of the so called investigation. The closure of the file is a slap in our faces.
The public prosecutor put the death of our love ones to archives. But our wives and our children are not a file, you cannot put them in the archives.
The Greek government promised a full investigation. The responsible politicians stressed, that they want to find out the truth. The outcome is a shame and humiliation for us. We want justice.
We demand a reopening of the investigations. The persons who are responsable for the death of our love ones have to be held accountable.
We appeal to the citizens of Europe, to the European institutions Support our demands. Please, don't leave us alone.
Nothing will bring back our wives and kids. But without a reopening of the investigations and justice, the truth will be blurt and the human Rights violations in the aegean will go on. Many refugees died since the tragic event of farmakonisi.
We want justice.
Please, support us. Leave nothing undone to bring the death of our loved ones to justice.
Athens 31 July 2014
Family Ahmadi Family Azizi Family Safi
Read here background infos in english