Immigrants fleeing violence pay people smugglers thousands of dollars to enter Europe through Greece. The exodus includes children, alone and at risk. Their dreams are big, but the reality far different.
Story by: Irene Chapple. Film, Wojciech Treszczynski. Photo, Giorgos Moutafis.
Sisters' tears for broken family
Arazu has dressed carefully for her morning flight. The petite, youthful 43-year-old wears summery white trousers and Jackie O-inspired cream plastic sunglasses. Her nails are painted deep burgundy and her hair sits in a soft bob above her shoulders. Her earrings are delicate twisted wire balls with little pearls buried inside, gifts from her two daughters at Christmastime.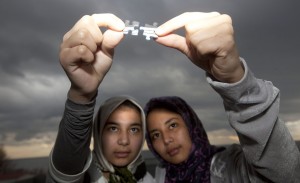 But it's the trousers and sunglasses that carry the most powerful memories for Arazu. She wore them the day she left Greece with fake papers more than two years ago. Now, as a legal resident of Europe, she's wearing them upon her return as a symbol of freedom — and a message of hope.
Continue reading '3 Videos / CNN / Europe's Lost Children: Journeys of pain, despair – and joy.'