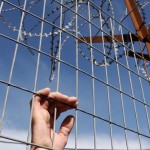 We prisoners in Filakio need your help from the outside. We do not have access to other cells, we don't get fresh air, the water is dirty, food is just enough to survive, we cannot go outside.

When someone is sick, we cannot reach the doctor for help. Again and again, people fall sick since the toilets are dirty. We want to leave this prison. The police is beating us again and again, on our hands, on our feet, they insult us endlessly. Nobody answers our question to what our future will be. There are even people that have gone crazy, and still we cannot leave. We are a lot of people, with different nationalities, in one cell.
We have not committed any crime, and we have not chosen this fate.
We have fled war, oppression and poverty to reach European democratic countries.

Somebody tell us what is awaiting us, what will happen to us.

We prisons from Filakio, we are thankful that people are listening to us now.
Recently one of the prisoners went on hungerstrike. He fainted after 12 days of hungerstrike. After two days in hospital he was brought back to the prison cell. Nobody took note of his protest.
Press Release by the open Plenum in Orestiada against the repression in detention (in Greek)
See also: http://infomobile.w2eu.net/2011/09/12/situation-in-fylakio-in-september-2011/