From Balkan Insight – news article, 4th of November 2011:
Bulgaria fails to integrate its refugees and routinely locks up asylum seekers, despite EU and national laws banning the use of detention centres, forcing even those who might otherwise stay to try their luck in western Europe.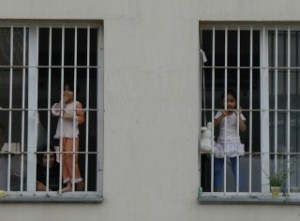 What crime have I committed to be held a prisoner?
When will they set me free? They are telling me six months, why six months?" "On what grounds are they detaining me? I am a refugee, not a criminal.
Visiting the Liubimets detention centre on the Turkish-Bulgarian border is not for the faint hearted. Within seconds the few outsiders who visit are mobbed by dozens of angry immigrants, all yelling the same question in different languages: "Why are we in prison?" "We don't know why we are being detained. We haven't seen anybody. Nobody explains what is going on," a Tunisian man in his 20s shouts. Another, an Algerian in his early 30s, chips in: "I know my rights. Are you [Bulgaria] in the European Union? I know the rules; you don't have the right to put me in a prison."
Bulgaria currently locks up the 1,000 asylum seekers it receives on average each year in two secure units, the Liubimets centre and another in Busmansti, just outside the capital city Sofia. Most are detained for months on end, something that is against both Sofia's national laws and EU regulations.
While Bulgaria is already failing to properly manage its asylum system, many fear the situation could spiral out of control once Sofia finally joins the border control-free Schengen zone. On joining, the number of immigrants heading for Bulgaria is expected to rise dramatically, as the many thousands who currently cross illegally into the EU via the Turkish-Greek border may opt instead to slip into Bulgaria en route to the West.
Detention the 'Only Option'
Government officials acknowledge they are breaking EU rules and national law, but insist they can only properly cater for just 400 asylum seekers at any one time in dedicated, open reception centres. Nikola Kazakov, director of the State Agency for Refugees, says they are forced to incarcerate asylum seekers because they simply do not have enough places outside of these secure units. "The biggest problem in the Bulgarian system of reception is the low capacity of the open reception centres, so we are forced to keep people who applied for refugee status in closed camps," he says. "Yes, it's against the minimum standards for reception of asylum seekers but that is the capacity of Bulgaria."

Bulgaria's interior ministry has also admitted it is failing to meet even minimum EU standards. In March this year, it published a draft strategy detailing the system's failings, including too few residential places for asylum seekers. Sofia and Bucharest's bid to join Schengen was postponed in September, after the Netherlands and Finland objected on the grounds both are unable to secure their borders. Schengen members do not want to see a replica of the situation in Greece where in 2010 alone, 41,000 immigrants illegally crossed the Turkish-Greek border in the hope of making it to western Europe.
Officially, asylum cases in Bulgaria should be decided within six months. In practice, applications are subject to frequent delays, extensions and lengthy court appeals. Trapped in detention centres while application processes drag on, many asylum seekers just want to be released so they can take their chances in Bulgaria or beyond its borders. To be freed, asylum seekers must sign declarations stating they have secure lodgings and are able to financially support themselves. Many simply invent addresses. "One of them had filled in the address of the Bulgarian Red Cross, which he saw in a leaflet, and was set free but then had no place to live," says Linda Auanis, an Iraqi who is chair of the Women's Refugee Council. "Afghan people say they know a flat in Sofia where, according to the declarations, at least 20 people 'live'."
Many are unaware that by signing these documents they also waive their rights to any material assistance – including accommodation – from the state from that point onwards. There is no way of overturning these declarations once signed. The asylum seekers must fend for themselves, despite being unable to work or receive any state benefits.
"I am on the streets for several months now. I eat once every two days, whatever I am thrown. I have lost more than 10 kilos. No one has called me for an [asylum application] interview and the procedure is being extended again and again," says a 20-year-old Iranian who declined to give his name.
Missing 6,000 'in Europe'
Forced to choose between begging on the streets, working illegally or even stealing, unsurprisingly it appears even those who want to stay in Bulgaria opt to chance their luck in other European countries. From 2000 until now, around 6,000 of approximately 15,000 applications have been cancelled. Those 6,000 people have disappeared from the system and the Bulgarian authorities have no idea where they are. "A large number of the asylum seekers who ended up in Bulgaria were actually on their way to another country, so we can presume that those people whose procedures have been cancelled have left for other EU countries," says Iliana Savova, a lawyer working for the Bulgarian Helsinki Committee.
However, many of those who made it to other countries will have been sent back to Bulgaria, where they must restart their asylum claim or return to their country of origin. Since 2003, the so-called Dublin Regulation has been in force among all EU nations, enabling countries to return asylum seekers to the first member state in which they applied for refugee status. The EU has established a European fingerprint database – EURODAC – and member states are obliged to ensure it contains prints and other data for every immigrant to facilitate these returns.
Payam, not his real name, says he was tortured by the police in his home country Iran during the state's crackdown on reformists following the disputed 2009 election. He originally applied for refugee status in Sofia but managed to get to England where he has relatives. Three months later he was sent back to Bulgaria and now fears his application will be prejudiced because he tried to go to the UK. Five months since returning to Sofia, his second application for asylum is yet to be formally registered by the authorities. Throughout this time, he has been unable to rent an apartment, draw money from his bank account and could be sent back to one of the two detention centres at any time.
"This is not a life really; it is hard to bear… I would prefer a prison at home where I was tortured in all kinds of ways," he says.
Bulgaria does not grant special residency terms for claimants who cannot be deported because their country of origin, and therefore asylum case, cannot be determined. Unable to repatriate these people, most countries can opt to grant special leave to remain or 'status of tolerance' that at least allows applicants to settle and work. Bulgaria has no such legal mechanism and is reluctant to introduce one. "It may provide a legal status to potentially dangerous persons," explains Dragomir Petrov, director of the Migration Directorate within Bulgaria's interior ministry.
Immigrants 'Criminalised'
This means many asylum seekers in Bulgaria are trapped in a vicious circle of application, rejection, appeal and reapplication – all the while unable to work, claim benefits, settle or integrate.
Mohammed, an Afghani in his mid-30s, has been in Bulgaria for 12 years. He is still waiting for a final decision on his asylum claim after submitting eight separate applications.
"I cannot, and will not, go back to Afghanistan where my life is in danger. I cannot afford to pay traffickers to get me from Bulgaria to other European countries. I can work illegally here but the authorities are cracking down on bosses employing illegals. What else can I do, steal or be a criminal?"
On average, around 600 people illegally cross into Bulgaria via the Turkish border each year. The crossings are organised by traffickers operating in Turkey, who are said to charge around €1,000 to show immigrants how and where to cross. "It's like being at a market, you go and choose your trafficker depending on where in Europe you want to go and how much you can afford to pay," says Farhat, an Afghani in his 20s who crossed into Bulgaria via the Turkish border in 2001. Most choose to go to Greece, an EU member state that is part of the Schengen zone.
Greek Crisis
The situation is dire in Greece, where thousands of immigrants, many fleeing violent conflict and extreme poverty in places such as Afghanistan, Congo, Iraq and Libya have poured over the border from Turkey. Amnesty International, the European Committee for the Prevention of Torture and the European Court of Human Rights in Strasbourg have all strongly criticised Athens' policy toward asylum seekers. "Asylum-seekers and irregular migrants are not criminals. Yet, the Greek authorities treat them as such, disregarding their rights under international law. Currently, migrants are detained as a matter of course, without regard to whether such measures are necessary." "The detention of asylum-seekers and migrants on the grounds of their irregular status should always be a measure of last resort," reads the Amnesty report published in July 2010.
Greece responded to this criticism, acknowledging shortcomings in their system but stressing they had no means to reasonably deal with the sheer numbers – 41,000 in 2010 alone – of people coming over the border. Athens underlined that the problem was very much a union-wide one, given that according to FRONTEX, the EU border security mission, 90 per cent of those illegally entering member states do so via Greece and the Greek-Turkish border. "It is unfair to regard illegal immigration management issues as an exclusively Greek matter. For this reason, we deem encouraging the fact that very recently it was recognised as a widely European issue," says the Greek government.
FRONTEX manages operations across the union's borders and has now established a strong presence in Greece to assist with the influx of illegal immigrants. However, despite beefing up security on the borders, immigrants still manage to slip into Greece by changing routes and crossing points. "After we secured control over the land border, the influx moved to the river and in the first quarter of 2011 there were 11,200 illegal immigrants who crossed this way," says Georgios Slamagkas, chief of police in Orestiada, a Greek town that borders both Bulgaria and Turkey. Few people here believe the patrols will stop the flow of immigrants desperate to get to the West.
Bulgaria the next Greece?
"I have great hopes that Bulgaria's membership of the Schengen zone will reduce the pressure on us," a Greek border guard says, on condition of anonymity. "We will build a wall along our 12 km land border with Turkey, we will strengthen the control along the river and this will redirect the immigrant flow towards Bulgaria." He then smiles, explaining he often prefers to end his working day tracing the 210 km land border between Turkey and Bulgaria on Google maps.
While this might sound callous, the large numbers of asylum seekers in Greece resulted in entire districts of the capital becoming effectively no-go zones. Omonia Square is part of the historical centre of Athens and was once a popular hang-out for locals and tourists alike. Today, shops and hotels have been closed down as the area has been effectively taken over by immigrants, many of whom have been forced to squat empty buildings or even sleep out on the streets.
The locals are frightened to go there at night because, they say, the crime rate has dramatically risen. They are also furious because the presence of the immigrants deters tourists from spending time and money in bars, hotels and cafes. "More and more local businesses and shops have gone bankrupt; at the beginning of the year two of the biggest hotels, each with 150 to 200 rooms, closed their doors because tourists cancel their reservations. The immigrants frighten them off because it is very common to be robbed, crime is getting worse and worse," complains a young Greek who owns a souvenir shop near Omonia Square.
Greeks protest regularly, calling on the authorities to take control of Omonia Square. Athens' mayor, Giorgos Kaminis, recently warned that unless the state intervenes, Omonia Square will turn into a "war zone similar to Beirut during the 1970s". But the situation is not likely to change any time soon, as the Greek authorities already have a backlog of more than 55,000 asylum applications, according to ministry of interior figures.
The issue of refugees and economic migrants is hugely controversial in many western European countries, where anti-immigration sentiment is on the rise and politicians must be seen to be tough on 'bogus' asylum seekers.
West is Best?
The diplomatic spat between Serbia, Macedonia and Belgium in early 2010, which saw Brussels threaten to revoke its visa-free travel arrangements with both countries, was just one in a long line of disputes over controlling the flow of migrants from eastern Europe to the West. But it is hardly surprising that immigrants want to get to countries like Belgium – be it on the back of genuine or fake asylum applications – given the benefits available to immigrants from the moment they set foot in the country.
Like Greece, Belgium receives thousands of asylum applications. In 2010, 19,941 immigrants applied for refugee status with a further 13,493 seeking asylum in Belgium in the first seven months of 2011 alone. Yet, on the whole, immigrants are housed immediately in either specialist open reception centres, emergency makeshift centres – such as temporarily converted military barracks – or in hostels and low-cost hotels. On average, asylum applications will be decided within six months with the possibility to appeal afterwards. After four months in the country – regardless of their official status – they can participate in integration and language classes.
"I'm very happy because I received legal status quickly – within six months," says Asadullah Peimany, an Afghan man in his mid-thirties who has been living in Belgium for one year. "The countries must take quick decisions – no matter if it is a rejection – people must know what the future holds," he says.
In order to alleviate financial hardship, the Belgians passed a new law in 2010 allowing asylum seekers to legally work, and therefore support themselves, after spending six months in the country – even if they are still awaiting a decision on their claim. In accordance with EU rules, Belgium does not generally detain illegal immigrants. The only people who can be held in detention centres are those caught at the border, and this is legally possible because they are not deemed to have actually entered the country.
"They are a minority, most asylum seekers surrender to the authorities inland… [those caught at the border] can be held in closed centres for up to two months but the administrative procedures are fast-tracked and an initial decision must be made in two weeks," says Tristan Wibault, a lawyer at the Belgian Committee for Aid to Refugees.
After hearing the initial decision within two weeks, the case must be finally concluded within two months, at which point the applicant must either be deported or granted leave to remain.
Integration Over Detention
In stark contrast to both Bulgaria and Greece, Belgium has also developed advanced social orientation programmes that inform immigrants about the various institutions, benefits, the law and how the country generally works. Classes are provided in 15 different languages including English, Russian, Farsi and Arabic. Encouraging immigrants – including asylum seekers – to take voluntary work is very much part of the system in Belgium.
"The most successful integration of newcomers stems from a cheap initiative – organising voluntary work. We assist those who take part in our courses to find voluntary jobs, so that they can practice the language and establish contacts. People see they are doing their best and offer them jobs more easily," says Eric de Jonge, director of the BON integration centre in Brussels.
While the Belgium model demonstrates good practice overall, it is a costly business. In the Flemish part of Belgium alone, there are eight integration centres and each one costs €4 million to run each year. "We [the Flemish government] spend around €50 million per year on foreigners' integration… divided by the 41,000 people who benefit from the programmes [each year], it is not so much," says Leen Veraest, deputy director at the Flemish government's integration service. While stressing the courses are good value, she is quick to add they still do not have sufficient funds to provide classes for everyone.
Romania Ahead
Romania is another Schengen candidate that currently receives a similar number of refugee applications to its neighbour Bulgaria. Bucharest is, however, better able to accommodate asylum seekers as the country has five open reception centres that can cater for 1,200 people at any one time. While the asylum rejection rate is high, Romania does grant tolerance status so asylum seekers whose cases cannot be decided – and who cannot be deported – may be granted indefinite leave to remain.
Romania is also a few steps ahead of Bulgaria when it comes to integration, according to a survey by the British Council's Migrant Integration Policy Index (MIPEX). MIPEX underlined that Bucharest, unlike Sofia, does provide its asylum seekers with relatively unfettered access to the employment market once they have been resident for a year. In addition, immigrants can take Romanian citizenship without surrendering their own nationality.
While this sounds very positive, the fact remains that Romania is unlikely to face the numbers of asylum seekers and immigrants that Bulgaria is expected to on joining Schengen. Its geographical position means it is unlikely to be targeted by illegal immigrants crossing into Europe via Turkey. "We don't expect an increase in asylum applicants after Schengen membership, Romania is a poor country and this is why it is not attractive [to migrants]," says Carolina Marin, a lawyer working with the UN refugee agency in Bucharest and for AEQUITAS, an NGO working with asylum seekers in Romania.
In addition, Romania's immigrant profile differs hugely to those of Greece and Bulgaria. Most immigrants – including asylum seekers – hail from former Soviet republics such as neighbouring Moldova and Ukraine.
Romania is also likely to remain a transit destination for most immigrants who are trying to get to the West. "I think most illegal immigrants will try to pass through Romania without being registered at all," says Andreea Mocanu, a legal adviser at the National Council for Refugees.
Traffickers Outwit Border Patrols
Meanwhile, Sofia insists on joining Schengen, claiming anything else would mean Bulgaria was effectively a second class member of the EU club. However, as long as Bulgaria focuses solely on stopping immigrants crossing its borders, rather than setting up a robust system to properly handle the flow of migrants, it seems inevitable it will fail to stem to tide of would-be refugees heading to the West.
"Previous experience shows that building walls and tighter border controls are not adequate measures for solving the problems of refugees and immigrants – traffickers will simply find other ways to get people to Europe," says Mauro Longo, a film-maker and activist associated with European Alternatives, an organisation based in London which organises conferences, arts festivals and symposia on global refugee issues.
Now is the time for Bulgaria to properly close the gaps in the system, says Lorenzo Marsili, director of European Alternatives, who recommends Sofia quickly implements effective procedures aimed at integrating refugees. Failing to act will "lead Bulgaria into the same situation as Greece", he warns, something the Bulgarian public is most certainly not prepared for.
Juliana Koleva is a Sofia–based journalist. This article was produced as part of the Balkan Fellowship for Journalistic Excellence, an initiative of the Robert Bosch Stiftung and ERSTE Foundation, in cooperation with the Balkan Investigative Reporting Network.