When it comes to seeking asylum, Greece is the gateway to Europe. But the Greek asylum system is a mess. Paul Mason spoke to one man who has spent more than a year on the road – in squats, living rough and for a time in detention – about the experience of trying to claim asylum on Europe's frontier.
It was hard to forget Mohamed Lamhoud. I met him in a shattered factory in Patras, Greece, squatting there alongside hundreds of other young, male migrants. Their clothes were filthy; many had wounds consistent with being beaten up, or fleeing being beaten up. They were drinking and washing from a standpipe.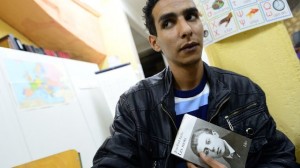 Mohamed was different in one way only: in his pocket he had a book by Jean Paul Sartre. And while I tried to engage him about the conditions in the squatted factory, he tried to engage me in a discussion about Nietzsche.
That was in February 2012. The 26-year-old Moroccan had been living there for months. As I left that factory, I never thought I would see any of the men living there again.
But three weeks ago, on Facebook, somebody friended me and immediately sent me a pop-up message: "C'est moi, Mohamed, sociologique." Through Facebook and Franglais he was speaking to me from inside a migrant detention centre in Corinth. And he had big news. He would soon be released.

When I met Mohamed again, at the gates of the Patras factory, he looked better. He had lost a stone in detention, but was putting it back on. He had newer clothes. And another book by Sartre: "Les Mots". In the year since I last met him a lot had happened.
"When you came and filmed us," he says, "there were maybe 400 to 500 people living in the abandoned factory. We slept in the sewers – because the police came for us every day. There were rats and mice in the sewers. It was toxic."
But life for the men in the squatted factory was soon to change.
Two months after I filmed there, the factory was attacked by supporters of the far-right party Golden Dawn. The trigger was the murder of a local man by three Afghans. Large numbers of far right protesters surrounded the migrant squat and attempted to invade it. Bitter clashes with the riot police ensued.
"They hit, they stole things. We thought if they found an immigrant they would kill him, because they are fascists. They came in with a load of people and the police had to stop them from entering in the factory. Because we are immigrants, we are nothing. What are you going to do if 20 people come for one person?"
I asked him whether the migrants understood why so many Greeks had become enraged by their presence:
"My friends were afraid. They do not agree with racism. But immigrants do not understand at this level what is happening. An immigrant has in his mind only to leave. He is not interested in what Golden Dawn is and all the rest. He is only interested in leaving this country. He doesn't care about anything."
Facing the rapid growth of the far right, in August 2012 the new coalition government launched a crackdown on the largely young, male, migrants who roam the streets in Greek cities. Operation Xenios Zeus (Hospitable God) saw police making a concerted sweep of the streets for those without papers.
I had seen it first hand before. I'd filmed a plainclothes police operation in October, to round up tens of migrants in the Agias Pandelemonos area of Athens, but was told to stop once the police saw our camera.
This month, in trying to retrace Mr Lamhoud's steps, I gained official access to a police raid under Xenios Zeus, in the Omonia district of Athens.
A team of three policemen strode out; all uniformed, and one with a lively and aggressive dog. As the dog, in a steel muzzle, manically tried to attack various random bystanders the other two began stopping pedestrians and checking their papers. Although I never got to ask them what their stop criteria was, it looked to me like the criteria was that they looked foreign.
After three stops, the team found a man who has the "Pink Card" – a certificate that he is in the process of claiming asylum. But it was a photocopy. He was detained on the street and after about 10 minutes put into a police car. If he cannot prove he has made an asylum claim, he would be sent to a detention centre.
In the past six months this has happened to 77,000 people, of which 4,000 have been sent to detention centres. And that is what happened to Mohamed Lamhoud. The police raided his shared house in October 2012: "They took me at 5am. You sleep and they come in. Twenty to 30 policemen. With so many police you become afraid. I have never seen in my life 30 policemen together. Three or five immigrants; 30 policemen."
"They take you away, but not for justice. They take you to the police station. At the courtroom, they just arrange your file. And they transport you directly to the camp. There is no justice. You go directly to the camp."
"There was no hearing?" I ask him.
"No justice," he replies. "I did not understand anything. From the police to camp. Why?"
They took him to the detention centre in Corinth, an old army camp, one of six opened to cope with the mass detention programme.
Mr Lamhoud's account of conditions there tallies with those of international observers:
"The conditions were very bad, unfortunately. The meals were not good, there were not enough blankets, for showers there was only cold water, freezing. We went on hunger strike to ask for hot water, just to be able to take a shower. I stayed two months without taking a shower.
"They played with our state of mind in order to make us leave. I don't know. They played with our state of mind."
On 18 November 2012 the hunger strike turned violent. Twenty four migrants were arrested after police tear-gassed the cells, and some men torched their bedding. At least three migrants were injured:
"It was a hunger strike. It's hard to make a strike when there are Moroccans, Algerians, Afghans, Pakistanis – and some of them are police informers. But we went on strike. It ended because they hit us. They didn't let us continue."
Newsnight asked to film inside the Corinth camp. The government pointed out that no journalists have ever been allowed to film inside. We filmed the perimeter instead, starting with the "Filming Not Allowed" sign, and stopping when police on motorbikes began to comb the area looking for us.
Migrants in the camps are not given access to the resources that would actually allow them to claim asylum.
But Mr Lamhoud is a survivor. By calling on the network of NGO workers he had helped as an interpreter in the squatted factory, he was able to get a volunteer lawyer to go into the camp and lodge an asylum claim. After three months they let him go. He now has the status of asylum seeker though it could be years before his claim is ever processed.
Last week, back in Patras and guided by Mohamed, it became quickly clear that – although technically cleared and secured – the factory was still inhabited, though by different people: Nepalese; Syrians; Sudanese from Darfur, plus a smattering of Algerians.
I meet a man who claims he is from Brazil, and has been caught up in gang warfare, which he demonstrates to me by miming a machine gun firing. He speaks Portuguese well, but also Arabic, because as my translator ascertains he is really Algerian by birth. Where is he headed? I ask:
"Glasgow."
"Why?"
"A better life."
"Celtic or Rangers?" I ask.
"Chelsea." He replies.
We go up a concrete stairway, without rails, into a bare concrete shell of a building. It looks like one of the battle-sets in Modern Warfare: shattered walls, blood-stained sleeping bags; the detritus of life on the road.
Inside are guys who have seen modern warfare for real. One man tells me he is from Aleppo in Syria. He and his friend are markedly wearing remnants of better clothing than the others, albeit faded and shredded by eight months on the road.
They have paid 3,000 euros to get this far. Two hundred metres away, through a hole in the shattered wall, is the Patras ferry port. The men whisper, in a kind of awe, the exact departure times, the ports of call – Brindisi, Venice – the transit times, the names of the ships. They know it all off by heart.
They want out of Greece, whose police raid them, forcing them into the sewers and culverts. Where are they going?
"Any country that respects human rights," says one. "There are no rights here," says the other.
Mohamed Lamhoud himself has a unique story. He tells me he cannot live in Morocco because he is "not a Muslim". He wants to live a secular lifestyle; to read the books and go out with the people he wants.
"It's very complicated," he says.
The more time I spend with him, the more I realise why he is guarded about the complications.
Some of the men squatting the factory with him last February were Islamists; the Syrian guys squatting now, with the remains of trendy hairstyles and with shaven chins, were most definitely not Islamists.
Once you are thrown into this deep uncertainty and squalor, the fraternity of the road takes over. The full details of Mr Lamhoud's case are for the Greek asylum system to deal with, not me.
He tells me how he got here. It is simple and deadly. Four-and-a-half-hour flight from Casablanca to Istanbul. Twelve mile walk to a certain hostel. From there four attempts by the traffickers to get him across the Evros river, in a boat, to northern Greece.
Long before my translator – who is switching form Greek to Arabic to French – gets it right, Mr Lamhoud's hand movements signal what happened. He mimes swimming: the boat capsized. Three Afghans in the boat with him drowned.
"The Afghans couldn't swim," he comments pensively. I have no way of checking this story, nor that of the thousands of others who have made that crossing.
He tells me the average fee paid to a people-smuggler is 3,000 euros to travel through Greece: "Of course, they are criminals," he adds.
Once in Greece, Mr Lamhoud faced the same basic problem that has afflicted all the men pooled into the side streets of Athens – it is almost impossible to claim asylum.
There is only one police station geared up to take the claims in Athens, in a squalid industrial wasteland, called Petrou Ralli. And that station takes just 20 people a week, on a Friday night, from a queue of about 200. It has been the subject of a scathing report by NGOs.
When we tried to film there, our camera crew was surrounded by 20 policemen and prevented from filming. A call to the police PR department put that right, but they still refused to conduct the selection procedure while we were there.
In Patras, the ferry port where Mr Lamhoud ended up, it is worse.
"The Red Cross is the gateway for making an asylum claim," says Katia Zagoritou, of the Movement for the Defence of Refugees' and Migrants' Rights, who first introduced me to Mr Lamhoud a year ago. "But the Red Cross only gets one appointment per week with the police. So functionally it's impossible to claim asylum in Patras."
After my first rendezvous with Mr Lamhoud we had arranged to meet again. He turned up late: "I was arrested and held – they said my clothes were too new and that I was on the streets too late," he told me. Because he did not want to attract the police to the place he shares with other migrants, "I slept under a bridge".
The Greek asylum system has come in for so much stick that, this year, finally it is set to be revamped. In 2011 Greece lost a European Court case, and was found to be in breach of the Convention on Human Rights, over the conditions under which detainees are being held. Now there is to be a new asylum system, separate from the police, and run by former UNHCR lawyer, Maria Stavropoulou.
It is to Ms Stavropoulou that the government directs me, rejecting requests for an interview with the police chief or the minister for citizen protection.
I put it to her that the Greek asylum system does not work. She answers frankly: "The asylum system in Greece hasn't worked for many years, for a number of different reasons."
In 2011 the Greek government was found in breach of the European Convention on Human Rights over its treatment of migrants in detention. I put it to her that two years on, having 200 people lying on the ground in the freezing cold to get just 20 appointments a week could not be fulfilling their human rights.
She accepted that "difficult access to the asylum system in Greece is one of the problems which the new asylum service is supposed to address. We are gearing up – we expect to have upwards of 250 new staff members". She said people in Mr Lamhoud's position were taking great risks, and that the "pink card" – giving the right to remain pending the processing of a claim – offered no long-term security.
When I put it to her that the creation of a harsh regime for asylum seekers had not stopped the flow, she answered, "this is why things are changing".
Mr Lamhoud's life, these past 12 months has been eventful. He has been on the receiving end of a mass racist attack; caught in a police detention sweep; incarcerated; taken part in a hunger strike; been lifted off the streets and, against massive odds, managed to lodge an asylum claim.
Despite this, he remains committed to the ideal symbolised by the well-thumbed paperback in his pocket.
"They want Europe. It is a hope, an objective. For some, Europe is paradise – you have to reach it," he says. Nothing the Greek state, or the European Union can do will stop the migrants coming.
His goal is to teach sociology in a French university. That seems a long way from sleeping under a bridge, and I get a sense that the Sartre book is a kind of talisman: a pledge to himself that it will happen.
He is spurred on by the knowledge that two of the men we interviewed with him in the factory, just 12 months ago, have already made it to northern Europe.
But the world around men like Mr Lamhoud is changing: there's a fence along the river Evros now. Soon the Greek asylum system will begin to process applications – which means deportations as well as approvals. And with the rise of the far right, civil society itself is more hostile.
In the abandoned farm, where he sleeps on the concrete floor with four others, I put all these difficulties to him. He says:
"It's like taking an exam. You revise and revise, and then you get to the final day, why would you give up then?"