When it comes to seeking asylum, Greece is the gateway to Europe. But the Greek asylum system is a mess. Paul Mason spoke to one man who has spent more than a year on the road – in squats, living rough and for a time in detention – about the experience of trying to claim asylum on Europe's frontier.
It was hard to forget Mohamed Lamhoud. I met him in a shattered factory in Patras, Greece, squatting there alongside hundreds of other young, male migrants. Their clothes were filthy; many had wounds consistent with being beaten up, or fleeing being beaten up. They were drinking and washing from a standpipe.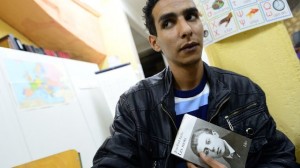 Mohamed was different in one way only: in his pocket he had a book by Jean Paul Sartre. And while I tried to engage him about the conditions in the squatted factory, he tried to engage me in a discussion about Nietzsche.
That was in February 2012. The 26-year-old Moroccan had been living there for months. As I left that factory, I never thought I would see any of the men living there again.
But three weeks ago, on Facebook, somebody friended me and immediately sent me a pop-up message: "C'est moi, Mohamed, sociologique." Through Facebook and Franglais he was speaking to me from inside a migrant detention centre in Corinth. And he had big news. He would soon be released.
Continue reading 'BBC: Greece asylum: Journey through a broken system'