"Do we look like animals or why do they play with our lives?"
A massive police raid in Idomeni put a temporary end to legal border crossings from Greece towards Northern Europe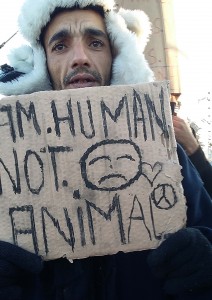 Hundreds of refugees were transferred by busses to Athens from the border city Idomeni, near FYROM (Former Republic of Macedonia), following a massive police raid with more than 350 officers participating that took place on Wednesday December 9, 2015. Many refugees had been waiting and protesting for more than two weeks along the new barbed wire fence, while only Syrians, Iraqis and Afghans were allowed to cross since November 19. Around 1,200 refugees from more than 19 nationalities had remained in the provisory tent camp the last days "united", as they claimed in gratifies for the right to a safe passage. As the border got partly closed and nationalities filtered in the ones allowed to cross and the rest, the situation had escalated with the Macedonian police using rubber bullets, tear gas and other forms of violence against anyone trying to cross. Dozens of refugees started started hunger strikes to protest the discrimination, as few of which even sew their mouths. A young Moroccan died during protests as he got electro shocked accidentally. In the peak of clashes between the Macedonian police and the desperate refugees, many big humanitarian organizations left the field "for their own security", temporarily leaving alone refugees and activists alike to cope with the experienced violence, the following injuries and confront harsh living conditions. Only a day later Frontex accepted Greece's request to deploy Rapid Border Intervention Teams (RABIT) on the Greek islands in the Aegean to assist the country in dealing with the record number of migrants coming to its shores.
Massive police raid far from the eyes of the public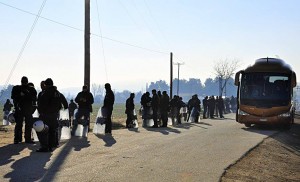 Already on Tuesday activists informed that there were civil police checking the tents and counting people in order to prepare for their expulsion. The next day, no journalist, no volunteers and no NGO employees were allowed to be present when the police operation started in the early morning hours. Four journalists were even temporarily arrested as they were on scene. The only reliable information from then on came from the refugees themselves. "The police came early in the morning when there were no journalists with cameras around. They forced violently the single men to get out of their tents and enter the buses," a young woman from Yemen said, who just arrived with her family to the Tae Kwon Do stadium in the district Palaio Faliro, one of three temporary accommodation sites the government provided for in Athens which was a 2004 Olympic Games venue. She is looking for a way to move to the open camp Eleonas because the huge gym is overcrowded and noisy. Living conditions there are hard to cope with specifically for her as a woman and her small children.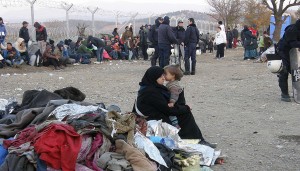 A couple of tweets referred to police beatings during the raid. Bordermonitoring.eu also reporting live from Idomeni and the forced eviction stated that a couple of refugees were shouting " We don't go back!" while police also cut some tents open to get people out by force. According to them police used violence also against families including children.
"Europe doesn't leave us any legal and safe option to get out!"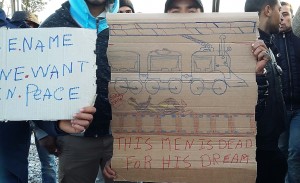 Greek Prime Minister Tsipras taking position to Idomeni police raid insisted that the government successfully managed a peaceful transfer of people to Athens. He continued: "We have to see how to confront the problem when the countries decide to close their borders unlawfully." According to him there is a real danger that Greece turns again to a warehouse of refugees if migration flows continue in the current size.
Meanwhile, two single women also from Yemen are standing on the street in front of the Tae Kwon Do stadium looking scared. "We cannot sleep there. We are afraid. There are so many men inside and we are alone". All refugees are exhausted and hungry. Many are searching in mini markets near the stadium to find something to eat. Confronted with the harsh situation in the provisory sleeping facilities hundreds of refugees left looking for alternative stays in informal hotels run by conditionals in the centre of the city. The ones who have some money left will try to find smugglers and find another way to exit Greece. After more than 14 days in Idomeni suffering under the unbearable cold, police violence on the border, hunger and lack of any human sanitary infrastructure none of them wants to give up. "Giving up is no option. We escaped our homes to reach safety, humanity, respect, a possibility to live, to feed our children, to go to school… Simple thinks you may think, but not for someone who comes from war," said a young Palestinian. "We are forced to get in contact with the Mafia in Athens in order to travel to Europe. What else can we do?" says Jassar a man from Iran. "Europe does not leave us any legal and safe option to get out! Even if this way is expensive and dangerous, we have to take it."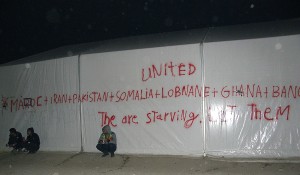 Some meters behind him Sarom is standing with his family. He also just left the stadium and is looking for a taxi that could bring him to a hotel in the city center. "We are so tired. We have to rest in order to be able and think. In order to plan our next step", he says. According to media reports up to 37 buses left Idomeni on Wednesday transporting more than 1.800 refugees and migrants in total to the capital. The Tae Kwon Do Stadium has a capacity of maximal 1, 700 persons. On Tuesday there were already 750 people. Journalists and activists are not allowed to enter. In the entrance of the camp the responsible hang a list documented actual needs: food, shoes and clothes. The refugees have to sleep on the floor lying on blankets. Three meals per day are prepared by the Greek army and volunteers. According to the responsible of this place, there is 24 hours a day a doctor present. Refugees complained that the toilets and showers were dirty and that they weren't provide with sufficient food and clothes. There is also a lack of information about their rights and possibilities, about the asylum procedure, organizations that could support them etc.
During the night and after putting almost 2,000 people in the stadium conflicts rose among the pounded humans and riot police used violence to take control of the situation according to social media. Half of the refugees left the camp because there was not enough beds and food.
Asylum in Greece is no alternative as long as there are not even opportunities to survive in Greece
Greek Migration Minister Mouzalas stated recently that the refugees brought back from Idomeni would have three options: either applying for asylum, voluntary return or deportation. But staying in Greece is no alternative to any of the refugees who face huge obstacles to survive harsh living conditions in Greece – be it in Idomeni, Athens or elsewhere.
Meanwhile the often advertised European relocation program is only open to Syrians, Iraqis, Eritreans and people from the Central African Democracy. 50,400 persons are planned to participate in the program the next to years. Until the end of November 120 persons were already relocated, the plan foresees an aimed 500 to resettle until the end of the year.
For the normal asylum procedure it takes 4-6 months to receive an answer for the application. Until end of October 10,700 persons had applied for asylum according to the director of the Asylum Service Maria Stavropoulou. This is three times as much as last year, but compared to the more than 769,000 arrivals until now it seems nothing. Asylum application are estimated to rise drastically now with the closure of the border to FRYOM. The Asylum Service in Athens has not enough staff and is still working mainly with a Skype process for making appointments limited to certain languages that are available. This dysfunctional system will be even more ineffective if now with the returning refugees and the closing of the border numbers of applicants might rise. Even for the asylum applicants there are not sufficient reception places available. Only unaccompanied minors, families with children and other vulnerable persons have a chance to get state funded housing provided. The UNHCR is planning to provide 20.000 places "soon", but the procedure of finding adequate places and build up new reception centers seems to last very long in practice.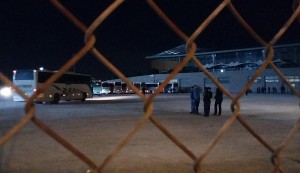 More than that on Thursday 10, the European Commission adopted infringement decisions concerning Greece and other EU Member States for failing to fully transpose and implement the Common European Asylum System. It specifically urged Greece, Croatia and Italy to correctly implement the Eurodac Regulation (Regulation (EU) No 603/2013), which provides for effective fingerprinting of asylum seekers and transmission of data to the Eurodac central system within 72 hours. The Commission is also urging Greece and Malta to communicate the national measures taken to fully transpose the Asylum Procedures Directive (Directive 2013/32/EU), which sets out common procedures for granting and withdrawing international protection, and the Reception Conditions Directive (Directive 2013/33/EU), which deals with access to reception conditions for asylum seekers while they wait for examination of their applications.
Artificial separation of people on the move in refugees versus economic migrants
Government officials in their recent public statements present the non-Syrian, non-Afghan, non-Iraqis – meaning all other nationalities which were not allowed to cross the border and move on to the Balkans since the 19th of November – in great parts indirectly or even directly as economic migrants. Among them are Iranians, Somalis, Sudanese and many other groups that receive high percentages in European recognition rates.
Government puts a focus on voluntary returns and deportations
On Tuesday employees of the International Organization for Migration (IOM) went to the stadium to advertise the offer of a voluntary return with a 400 Euro bonus for each return program attendant. Actually, as the employee informed the refugees many of the nationalities present here cannot participate in the program as in their home countries their is war. Only the Moroccans for example get an offer. Yet, no one is considering staying in Greece as a feasibly choice. With a half decade of economic crisis the country has a high unemployment rate and almost no welfare system. There are no means to integrate so far. On Wednesday the government decided to give work permits to those with a 6-month tolerance document in Greece. "This would be at least a first step," says Francis a refugee from Somalia. He is asking how much is the daily salary in Greece. "We have to work. There is no other way for us to survive here. The problem is there is no work we can find."
Insufficient, temporary and provisory the housing solutions
Except the stadium in Palaio Faliro where about 1,750 refugees are staying now, there is currently also a stadium in Elliniko with a capacity for maximal 500 persons and the open camp of Elaionas with a capacity of 700. Ellinikon was supposed to close in October but instead even two new tents were set up leading to the public protest declaration of four mayors of Attica region. In the latter mainly families are placed and other vulnerable cases. The government announced the soon opening of other accommodation places near Thessaloniki. Former military camps are planned to be transformed in provisory shelters in the area by the government. Meanwhile solidarity structures are creating alternative stays in squatted buildings. After Notara Squat in Exarhia Athens, also in Thessaloniki an former orphanage got occupied recently.

Situation at the Tae Kwon Do Stadium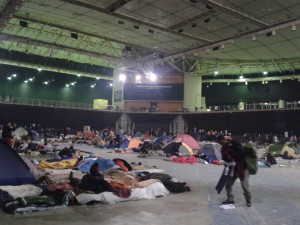 Other than housing, the refugees that were brought from Idomeni to Athens will soon face a much more severe problem. On December 17th the stadium in Palaio Faliro has to get emptied as it is rented for a sports game. The government didn't yet announce where the currently sheltered will be brought next. Activists fear that many of them will end up homeless in the streets of Athens. "Do we look like animals or why do they play with our lives," a Palestinian from Lebanon asks rhetorically. He also sleeps in the big stadium and doesn't have any idea how to survive in Greece or how to get out of it. With the 30 days of legal stay in Greece or respectively the six months suspension of deportation for Syrians, Somalis and some other nationalities, all refugees got on their official notes upon arrival and a limited time frame until they get undocumented. Days are passing by without any way left to exit the crisis ridden country, so many refugees find themselves now trapped in limbo. They soon might face the problem of getting undocumented and in danger of imprisonment. As Mr. Papadopoulos the General Secretary of the Migration Ministry stated in an interview: "And then there are also still the pre-removal detention centers…."
photo credits: Chrissi Wilkens, Vasilis Tsartsanis & Loukia Sougia