"Do we look like animals or why do they play with our lives?"
A massive police raid in Idomeni put a temporary end to legal border crossings from Greece towards Northern Europe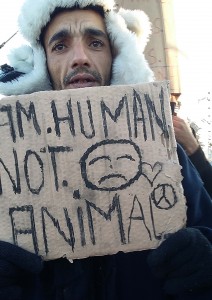 Hundreds of refugees were transferred by busses to Athens from the border city Idomeni, near FYROM (Former Republic of Macedonia), following a massive police raid with more than 350 officers participating that took place on Wednesday December 9, 2015. Many refugees had been waiting and protesting for more than two weeks along the new barbed wire fence, while only Syrians, Iraqis and Afghans were allowed to cross since November 19. Around 1,200 refugees from more than 19 nationalities had remained in the provisory tent camp the last days "united", as they claimed in gratifies for the right to a safe passage. As the border got partly closed and nationalities filtered in the ones allowed to cross and the rest, the situation had escalated with the Macedonian police using rubber bullets, tear gas and other forms of violence against anyone trying to cross. Dozens of refugees started started hunger strikes to protest the discrimination, as few of which even sew their mouths. A young Moroccan died during protests as he got electro shocked accidentally. In the peak of clashes between the Macedonian police and the desperate refugees, many big humanitarian organizations left the field "for their own security", temporarily leaving alone refugees and activists alike to cope with the experienced violence, the following injuries and confront harsh living conditions. Only a day later Frontex accepted Greece's request to deploy Rapid Border Intervention Teams (RABIT) on the Greek islands in the Aegean to assist the country in dealing with the record number of migrants coming to its shores.
Massive police raid far from the eyes of the public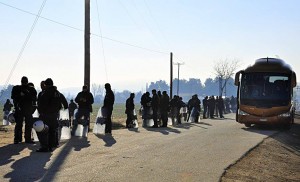 Already on Tuesday activists informed that there were civil police checking the tents and counting people in order to prepare for their expulsion. The next day, no journalist, no volunteers and no NGO employees were allowed to be present when the police operation started in the early morning hours. Four journalists were even temporarily arrested as they were on scene. The only reliable information from then on came from the refugees themselves. "The police came early in the morning when there were no journalists with cameras around. They forced violently the single men to get out of their tents and enter the buses," a young woman from Yemen said, who just arrived with her family to the Tae Kwon Do stadium in the district Palaio Faliro, one of three temporary accommodation sites the government provided for in Athens which was a 2004 Olympic Games venue. She is looking for a way to move to the open camp Eleonas because the huge gym is overcrowded and noisy. Living conditions there are hard to cope with specifically for her as a woman and her small children. Continue reading '++Police raid in Idomeni++Refugees trapped in Athens now++'