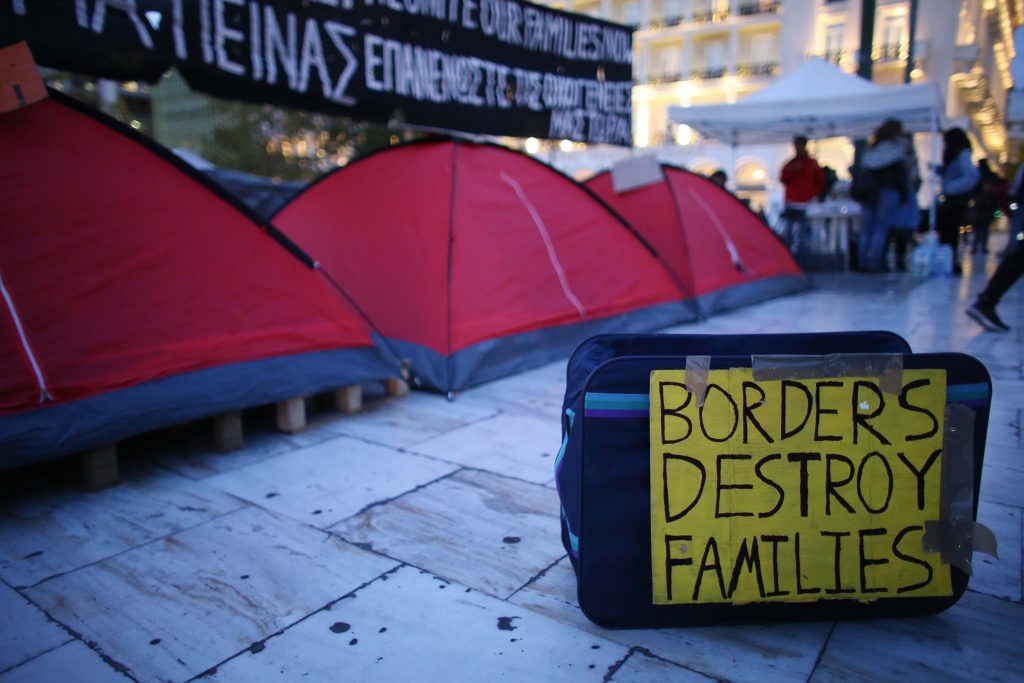 All children have the fundamental right to be with their loved ones no matter what. Despite this fact it has been broadly accepted in Europe, that refugee families end up separated, due to limitations of laws and an even more restrictive interpretation of these laws by states. The "best interests of the child should be a primary consideration of Member States", says the Dublin III Regulation, the primary legal tool within the EU to regulate the distribution of asylum seekers. Despite this fact, thousands of refugee children who reach Europe are held far from their parents, siblings or other close relatives such as aunties, uncles or grandparents, residing in other EU countries. 
In the dawn of the "long summer of migration" in 2015, thousands reached Northern Europe entering the EU initially through Greece. Many of their family members arrived later through the same route to Greece actually aiming to continue their journey and find protection near their loved ones in Germany or elsewhere. The following four years are marked by a sudden return from a short trend of a 'welcome refugees' EU-politics to the states' deadly 'closed gates' approach, which came into force parallel to a right wing upsurge in the governments of different member states and left the vast majority of newcomers after March 2016 blocked in Greece. 
In an atmosphere ruled by repressive anti-migratory policies all over the EU, grassroots groups and networks across the continent are struggling against deportations, push-backs, police violence, repressive asylum laws, continuing border deaths, the criminalisation of solidarity and an increase in racist attacks. Silence persists despite the fact that thousands of families are torn apart and kept actively separated by national authorities.
It is in this context that we want to share stories of refugee families split between Greece and Germany. It should not be accepted that failing to meet deadlines, separating with the best interest of children in mind or being separated by border policies, growing fences and intensified Frontex patrols / controls is an acceptable reason to keep families apart. Refugee families can in most cases not submit the necessary documents to prove they are relatives. They cannot supply authorities in many cases with passports, family books, birth certificates – all translated properly, because they escaped war and conflict, they came from situations and escaped under such conditions where most people lack such documentation or lose it on the way to safety. 
We chose to start this campaign on 15th March 2017, the date that marked the resumption of Dublin returns to Greece, following the European Commission's recommendation that conditions had improved there. North European countries, most notably Germany, were keen to take the opportunity to force people back to Greece. Germany sent 1,887 take-back requests to Greece in 2017, 6,827 in 2018 and 9,275 last year, despite the ongoing systemic human rights violations documented by numerous organisations.
Protection seekers struggle to reach 'safe' territory and survive in Greece
Today, the right-wing government of Kyriakos Mitsotakis and Nea Dimokratia elected in Greece last summer is imposing more and more drastic measures to keep refugees out no matter what. Ruling politicians have re-introduced an anti-migratory, mostly racist rhetoric, offensively propagating even the most ridiculous measures that would supposedly seal the borders (i.e. floating fences). After a recent upsurge of attempted border crossings caused by Turkish Primeminister Recep Tayyip Erdoğan's announcement that he would open the Turkish border to Europe at the end of February, authorities' use of violence to stop people from entering Greek territory has been apparently justified. Refugees were teargassed, beaten, stripped naked, pushed-back and even shot with rubber-bullets at the land border. They were attacked and shot in the sea, their engines were broken and petrol stolen and they were left adrift in distress. In these two weeks, two persons were documented dead at the land border and one child drowned in the Aegean Sea. Greek officials have found it legitimate, to start criminalising newcomers in search of protection with prison sentences reaching four years and fines of up to 10,000 Euros for mere 'irregular entry'. It has also been agreed that people will be returned swiftly back to Turkey or deported to their homelands without even being able to claim asylum. EU authorities have been silent on these breaches of fundamental human rights, instead offering Turkey and Greece more money.
New immigration laws introduced at the end of 2019 already had created numerous practical obstacles to protection seekers in Greece accessing their rights, with an increasing number of asylum claims being ended for arbitrary reasons and the number of rejections to asylum claims growing. No more social insurance number for asylum seekers (AMKA), new obstacles to get a tax number (AFM), no more direct right to enter the job market (only after six months from registration), big technical difficulties to access the asylum procedure through Skype, long waiting periods to receive social benefits for asylum seekers (people waiting for the cash-card for many months), increased periods to naturalize for beneficiaries of international protection (from five to seven years) and so on.
In mid-March 2020, the threat of the Corona virus pandemic has not only bought public life in Greece to a halt, but experts warn that an upsurge in infections is still to come next month and will hit the most vulnerable worst. Greek refugee camps where hundreds of vulnerable persons are living close to each other, usually without their basic needs being met are spaces of high risk of infection. NGOs have called for the immediate evacuation of the camps on the islands. At the same time, emergency measures for employees have limited the presence of site managing organisations such as IOM and NGO employees offering essential services to a minimum level. The Asylum Service has temporary halted its services to the public nationwide.
On the Aegean Islands, thousands of refugees remain trapped in tents in and around the 'hotspots', many of which do not even have access to food, medical aid or basic sanitary infrastructure. Those arriving after March 1sthave been held in dire conditions in outside areas of ports and a navy ship in Lesvos Island for many days. After two weeks trapped on the warship they have been transferred to the mainland. On the islands, protection seekers are searching desperately for legal aid, to access information on their rights and procedures. Most remain without any help and go through the asylum process unprepared. The already burdened public health care system is breaking down and medical aid as well as access to medication is in fact not existent. In the meanwhile, locals infiltrated by fascists are protesting since weeks against the government's plans to build closed immigration prisons next to the already infamous and overcrowded 'hotspots' on Lesvos, Chios, Samos, Kos and Leros islands. They have attacked refugees, aid workers and journalists alike.
On the mainland, more and more people live in marginalised camps far from any possibility to find help, to integrate or to identify any future prospects for themselves. The number of people homeless is growing and with the announced exclusion of beneficiaries of international protection from state housing, hundreds more will be on the streets by the end of this month. People arriving from the land border to the cities do not have access to the asylum procedure. They cannot access reception conditions and have to stay unregistered inside camps without any social welfare and services for months while living in tents, overcrowded common spaces or other residents' prefabs.
In short, protection seekers risk their lives to reach European soil and continue to be at risk even upon arrival to Greece.
Germany actively hinders families from being reunited since 2017
With the surge of family reunification applications after the sudden closure of the 'Balkan Corridor' and the implementation of the EU-Turkey 'Deal', the German authorities started developing a harsh anti-reunification policy. First, hundreds of family reunification cases which had already been accepted were unlawfully delayed, keeping children for months and even years apart from their families. By the end of 2017, systematic and generalised rejections of such applications increased suddenly first from the German side and as a consequence also from the Greek side, using administrative grounds to keep refugee families apart for indefinite periods. Instead of authorities deciding in favour of refugee families being united, the families now have the burden to prove why it is best for them to be together. Today, it is a common story of desperate children, mothers and fathers, that they are told by the Greek Asylum Service and NGOs: 'You cannot apply for family reunification!' or 'It is likely that your application will be rejected by the German authorities!'
Before, there was strong self-organised resistance from refugee families against the delays of transfers to Germany throughout 2017 / 2018. Nowadays, the extremely harsh interpretation of the Dublin III Regulation and German immigration law when it comes to family reunion, is being presented as a given fact and seems non-negotiable, despite the inherent injustice. Refugee families' voices have remained widely unheard.
We want to platform these voices. We stand against EU-policies that focus on closing borders and subjecting children to extreme violence, we demand families must be reunited. Basic rights are superior to immigration and asylum law. The wellbeing of children has to be protected and their best interest must be upheld. Authorities of all EU member states must stop putting children's welfare in danger and instead comply with the Dublin III Regulation, which explicitly states:
"(T)he best interests of the child should be a primary consideration of Member States when applying this Regulation. In assessing the best interests of the child, Member States should, in particular, take due account of the minor's well-being and social development, safety and security considerations and the views of the minor in accordance with his or her age and maturity, including his or her background. In addition, specific procedural guarantees for unaccompanied minors should be laid down on account of their particular vulnerability." (paragraph 13)
"In order to ensure full respect for the principle of family unity and for the best interests of the child, the existence of a relationship of dependency between an applicant and his or her child, sibling or parent on account of the applicant's pregnancy or maternity, state of health or old age, should become a binding responsibility criterion. When the applicant is an unaccompanied minor, the presence of a family member or relative on the territory of another Member State who can take care of him or her should also become a binding responsi­bility criterion." (paragraph 16)
End the separation of families!
Equal rights for all children and families!
Contact details for the families whose stories are included in this campaign as well as other separated families can be shared with the consent of the families in order to support legal efforts to reunite them with their loved ones. Contact us on facebook: www.facebook.com/w2eu.gr or email to: contact@w2eu.info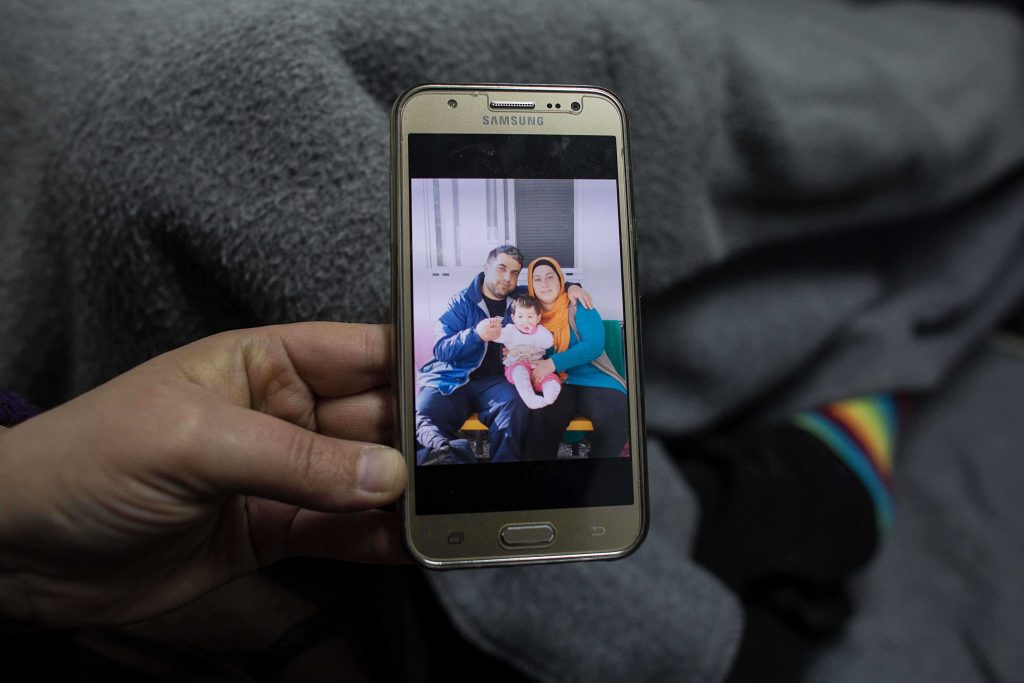 EXPERT OPINION
Psychosocial repercussions of the authorities' practice of not reuniting families
From a psychological point of view, it is unjustifiable in a family separated by the circumstances of the flight, to deny the affected children to re-establish a relationship and bond with the parents and / or siblings, or other closest caregivers, who have taken the place of the parents (grandparents, aunts / Uncle), unless their behaviour is per se endangering the child's well-being ('Kindeswohlgefährdung').
The experience of children who, together with their family, survive an often very long flight, is characterized by extreme forms of relying on one another. The habitual social framework is missing, which was enabling the children to take development steps outside of the core family. Instead, the family is dependent on itself in an unknown environment. The children are required to perform enormous adaption, which often puts them an unhealthy dependency from their parents or other adult relatives who replace them. On the other hand, children generally adapt to new environments and languages faster than adults, so that because of their faster language acquisition, they often have to carry out translations for their parents. They also experience their adult relatives helpless, humiliated and sometimes ill-treated by the authorities and police officers. Experiences of safety from earlier childhood are lost both externally and internally.
If, after such experiences, the children are separated from their parents and / or siblings or other close relatives, by the circumstances of the flight, they leave the family framework under circumstances that are already stressful. In addition to war and violence as reason for fleeing, many families have already experienced massive exclusion. As a result of the flight and its traumatizing circumstances – also in Greece, the families come under additional pressure and sometimes lose their old functions. On the other hand, they are the reference framework that is necessary for survival. Many children find themselves suddenly without their habitual family environment and often have to adapt to another foreign language in a foreign culture and environment without their main caregivers. The children are now trying to orient themselves on the given reference frame of the current place of residence, but remain very closely connected internally and through multiple phone calls every day to the separated family of origin – a family framework which is not practically liveable.
Children separated from families can have unforeseeable effects on their psychological development. In particular, their emotional stability can be so severely affected that the factual impossibility of seeing the family of origin again endangers the child's well-being. Also, children who have been separated from individual main caregivers (mother, father, brother, sister, etc.) need contact with these people for their further development. If the family or individual family members remain unreachable due to authorities' omissions, it is sufficiently likely that a child will dive successively deeper into psycho-somatic symptoms and develop them into a (virtual) world of their own. These children in a dysfunctional way, try to stay in touch with the separated parents, siblings or other close relatives who are replacing them, knowing and feeling that they are in a likewise bad psychological condition. Depression and other symptoms often become a self-affirming bond, which aims to keep the torn family together. This is particularly important if children are separated in the main phase bonding (up to the age of 3 years), as otherwise the bonding possibilities are likely to be disrupted.
A permanent separation from the family creates increasing risks for the psychological development of all affected children and consequently endangers their best interests.
Dipl. Psychologist and Family Therapist Reimer Dohrn