A campaign to unite families separated between Germany and Greece (2)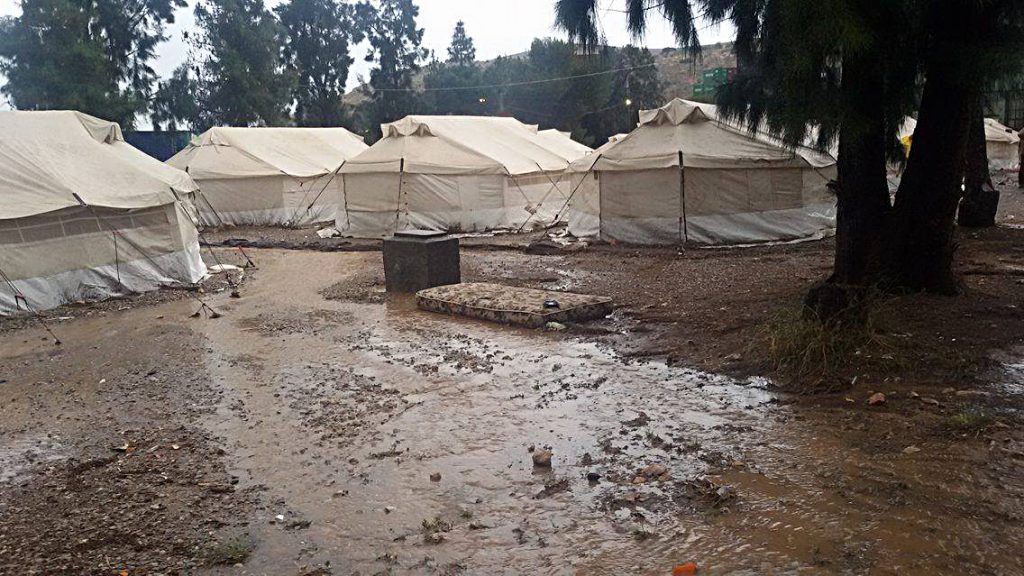 A mum and a dad with three young kids in Greece – their 17-year-old son alone in Germany
This family belongs to Hannover!
Morteza B.* (37) from Afghanistan escaped his country after the lives of his family were threatened. He arrived to Greece with his wife and four children shortly before the EU-Turkey 'Deal' was implemented at the end of February 2016. After a few months feeling unsafe in a Greek emergency refugee camp near Athens, the family tried to continue their flight through the Balkans.
More than ten times they were intercepted and unlawfully pushed back to Greece. Once they finally reached Serbian soil, they were intercepted again and pushed back arbitrarily to Bulgaria, where they had never been before.
In winter 2016, after a week-long odyssey, they were finally returned from Bulgaria to Greece. Left with no money, they saw no option but to send their eldest son Massoud* (now 17 years old) to Germany, where they thought he would be safe, as he had been the one along with his father threatened most in Afghanistan.
Their family reunification application was never sent by Greek authorities despite repeated promises. Instead after two years in Germany and despite having claimed asylum there, Germany attempted to return the family's minor son back to Greece. When Greek authorities refused to take him back, he was allowed to continue his asylum procedure in Germany. He finally received a one year national humanitarian status (Abschiebungsverbot). He is legally resident in Germany and goes to school there ever since. But he is alone.
"Our son was almost kidnapped in Afghanistan. Masked men were waiting for him in front of his school. After this terror, we had to take our kids from school to keep them safe. We fled to Greece. We tried for months to move onward all together through Macedonia and Serbia as we felt unprotected among the hundreds of other Afghans around us.
On our way, we got illegally returned more than a dozen times. We were beaten, pushed by border guards, soldiers and police; our phones got stolen. We were forced to cross through the freezing waters of a river and were kept detained in Bulgaria for two months in miserable conditions and without being able to even go out.
Back in Greece, after our son reached safety in Germany and when we informed the Greek Asylum Service that we wanted to apply for family reunification they just told us they would send it but we had to wait. Every time we renewed our papers, they'd say the same pushing our patience beyond its limits. Until that day I will never forget, when they suddenly said: "No! We will not send your family reunification request. You will have your asylum procedure in Greece." I felt I was breaking.
Me and my wife still try to understand that we will have our asylum interview in Greece in one year, exactly five years after we reached Europe, when we will have been separated far away from our son for 3 1/2 years already.
We still live in this refugee camp, a container village in an industrial area. My wife is suffering from severe psychological problems for years, she has therapy and takes medicines. Her situation worsened after the violence we faced at Europe's borders, but her health is devastated since our eldest child is so far from us.
We have a few neighbours that have been with us all the time in the camp – they have created little gardens on the dusty soil. But I cannot think of putting even one plant in this earth, as we cannot build anything like 'home' when one of us is missing.
Home is where your family is – together!"
On the other side of the continent, up in the North, the 17-year-old Massoud* is counting the days to see his family again.
"I miss my family. I wish they come here to live with me in a house. When I was in Greece, we lived in a tent. There was no language lessons, no school. I was very scared to go out alone. When my parents decided I had to move to Germany alone, I was only 13. They were scared to let me go and I was scared to travel alone, but I was more scared to stay in Greece.
I speak every day on the phone with my family. I want to give them strength. The good thing about Germany is that I am not afraid to go out and that I can go to school again. In my future I want to become a cook. I learned cooking by myself when I arrived in Germany and I had to take care of myself. My mum often cries when we talk on phone, but she is happy that I learned to cook, because she doesn't need to worry about me being hungry. She knows I can fill my stomach now with tasty food."
* names changed