A campaign to reunite families separated between Germany and Greece (4)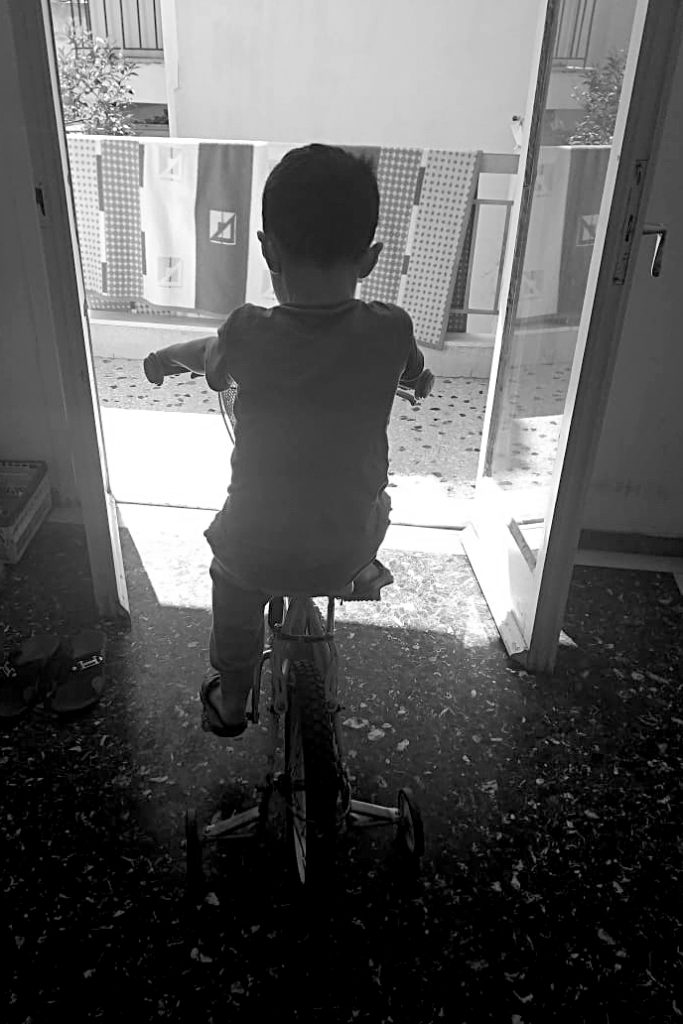 A father with a 4-year-old boy in Greece – the wife / mother suffering cancer and going through chemotherapy alone in Germany
This family belongs to Hamburg!
Fereshta* (37) married her husband Habib* (33) in Iran. She was born there as an Afghan refugee. Habib was born in Afghanistan but escaped with his family as a teenager. Life in Iran was hard. Most Afghan refugees in Iran have either temporary permission to stay, which can only be renewed upon payment of fees, or remain undocumented. While Fereshta had a six-month residence permit, her husband was without any documents and so was their child upon birth. After their marriage, Habib was arrested twice and deported back to Afghanistan, where he is in danger until today. 
In 2017 Fereshta fell ill. Her breast became more and more swollen and painful. She had no health insurance and so it took months until Habib could collect enough money to pay for the expensive examination at a local hospital. The diagnosis was bad. She had breast cancer. Desperate to save his wife, Habib worked every day and borrowed money to finance the chemotherapy she urgently needed. One day, on their way back from the hospital, the couple were controlled by police who wanted to arrest Habib and deport him once again. Fereshta cried and begged the officers to let him go because she was sick. The family had to bribe the Iranian police to escape.
After this incident, it was clear to Fereshta and Habib that they could no longer stay in Iran. They took their small child and fled. In the mountains at the border to Turkey the Iranian border police detected their group. They let the dogs loose on them. Fereshta and her family ran. She took the bag and her husband their child. The police shot. She can still hear the sound of the bullets. She remembers the stones and bushes they had to cross through in panic.
"Every moment I thought, this bullet will hit me. On our way to Europe there were many moments like this one, when I thought it was our last. In between there were the moments I felt the pain in my body so strong and I remembered the cancer."
Seven times the family tried to cross to Greece. Every time the Turkish police would arrest and detain them. Fereshta remembers with terror a week they spent in Izmir detention centre.
"Upon arrival, we were all body searched. The officer was shocked when she touched my breast. It felt like a stone. We were three families in one cell. We could not go out. I had my painkillers in my bag but I was not allowed to take them. I was sitting awake all night suffering. After a week, they brought a doctor. Then we got released…"
On our final attempt to reach Greece, our boat almost sank. There was a hole in it. Water was entering. It was the beginning of winter 2018 and the weather was bad. In the last moment we were saved. They brought us to Moria camp. I told them about my sickness. The doctor who examined me also got scared when she felt the state of my breast. I was sent to hospital for examinations. We stayed in a container with three families – a total of eleven people in one room. Then the UNHCR sent us to Athens to live in a house."
Two months after arriving to Greece, Fereshta was examined again, this time in Athens. Her chemotherapy started. But it did not have the expected effects. The mother felt very sick and radiotherapy had to be initiated.
"The doctors said I needed an operation. I would receive a call to know when my appointment was. No one called. Meanwhile my teeth were hurting me a lot. I asked for help. My days were marked by visits to the hospital. I had to go there many times without a translator. Sometimes I was sent away, because they couldn't understand me. It was not easy."
Habib was scared and felt helpless. He didn't know if his wife was receiving the treatment she needed and if it was in time. He didn't want to lose her. His friends all told him that it would be better to send her to Germany to be healed. What to do? There was not enough money to go together. They had spent everything they had for treatment and medication in Iran and then to reach Greece. On the other hand, he didn't want to leave her alone. The parents decided together that there was no other solution. They had to do everything possible to make sure she had the best medical care.
In September 2019, after almost one year in Greece, Fereshta arrived in Germany. She was examined by specialists and within just a few weeks she had an operation. Even today she must continue to undergo chemotherapy. Her asylum application was accepted on humanitarian grounds with a deportation ban (Abschiebungsverbot). She is legally resident in Germany now, but she didn't get an international protection status and thus can only apply for family reunification based on humanitarian grounds.
For more than two years, Germany routinely rejects such family reunification applications if the family member in Germany has Abschiebungsverbot, typically arguing that the first instance asylum procedure has been concluded negatively. At the same time, Germany in the majority of cases of Afghan asylum seekers issues only this Abschiebungsverbot status. 
Fereshta and Habib struggle hard despite the little hope to find a solution to be together.
"My therapy plan is scheduled to go on until 2021. Every week I have chemotherapy. It is tough to bear it. The worst thing is that I am alone and that my child and my husband are far from me. Every day we talk on the phone. My boy cries. He asks me when he can come to me. He makes plans for that day. I see him growing, but only through the phone. He learnt to ride a bicycle since I last saw him. He wants me to buy him a bicycle when he comes to me in Germany. It is difficult to deal with this situation alone. I had many bad thoughts. Then I started visiting a psychologist. I take medication to sleep now."
It is now three years that Fereshta's husband Habib has had the pressure of finding a way for his wife to heal. Since they reached Greece he suffers from constant headaches.
"Now she is in good hands and has proper medical care but I am not by her side to support her. Our child misses her. He needs his mother. We both cannot sleep. I am thinking a lot. It's the pressure of life. My sick wife is there, we are here. Our son doesn't believe me anymore, when I tell him we will soon be with his mother. He has lost his trust in his father. I still try to give him hope."
A few hundred kilometres north from her husband and child, Fereshta tries not to lose hope as she struggles to survive.
"I wish to be healthy. I wish for my husband and my child to come here soon. I wish for us to have a peaceful and normal life together. I wish that no family in this world will get separated!"
* names changed