Referring to the "accidental" death of Lamis Abounahi and her two children, 3-year-old Undai and 9-month-old Layal, due to a fire on the mountains of Samos.
Early in the morning of the 21st of July, an inflatable boat heading from Turkey to Greece abandons Syrian refugee Wasim Abounahi, his wife Lamis, their two children, Undai and Layal and their friends Jihad Kelani and Mohammad Basis on a rocky shore on the island of Samos.
The refugees climb up the steep mountain side and hide in a near-by forest until dark. Lamis is very sick and worn out, so they decide to use their only cellphone, to call the emergency number of the Turkish authorities (7777) and ask for help -Kelani speaks very good English. The Turks trace their cellphone signal and answer back soon after to inform them on their position, giving them the emergency number of the Greek authorities (112). The refugees fail to reach 112, so they ask the Turks to contact the Greek authorities for them. Indeed, after a few minutes they receive a call from a Greek cell, Kelani explains to the woman on the other side of the line the dire straits they're in and they agree to light a small fire on the edge of the rock so that the lifeboat can spot them.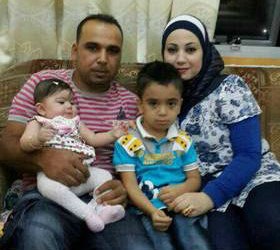 Continue reading 'Chronicle of a state crime: The death of a Syrian mother and her two children in Samos'