Bridge to nowhere: Syrian refugees in Greece
Abuse and a cash-strapped government make it a difficult destination for those fleeing the war.
fotos: anna psaroudakis
Athens, Greece – Passage to Greece was probably easier for Daoud Abdo and his family than for most Syrian refugees. It took the family of five just two weeks to travel by bus to Istanbul and cross the Evros river, which forms Europe's southeastern-most land border. But the journey was still fraught with danger.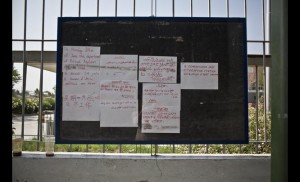 Daoud said he and his wife fell off a platform over the river that they were walking across and into the marshes. It was raining and the swamp surrounding the Evros was deep. Daoud is convinced they would have drowned that day, were it not for a group of refugees from Bangladesh.
Continue reading 'al jazeera / Bridge to nowhere: Syrian refugees in Greece'