International Day of Families cannot be celebrated by those separated by borders!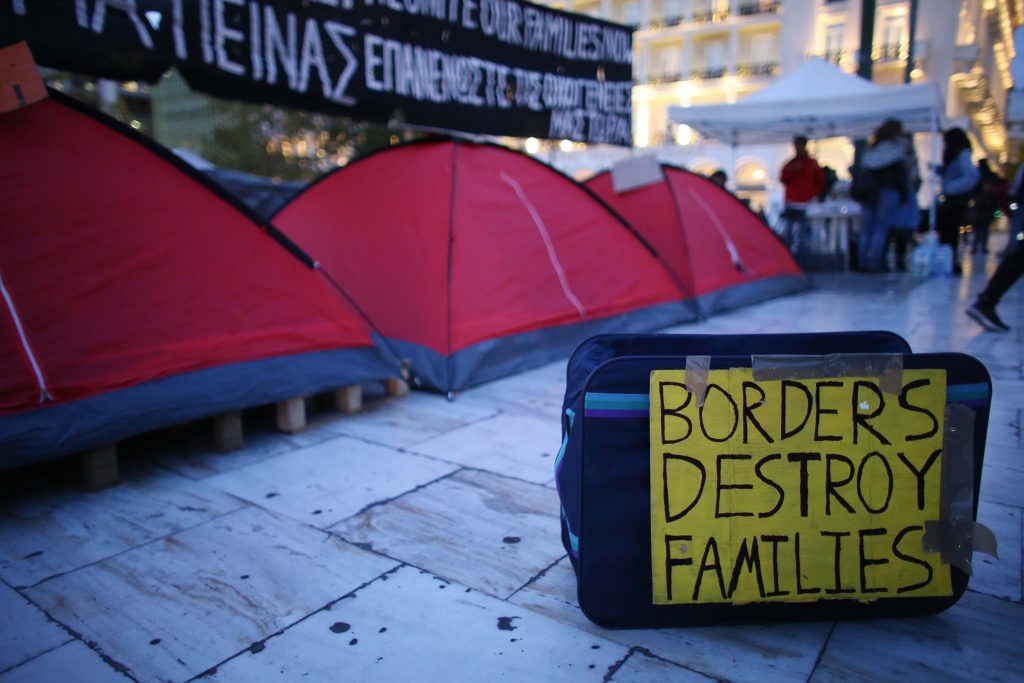 "My thoughts are dark. There are so many problems. I wouldn't know it's the International Family Day. I am feeling scared and worried inside the camp we stay in Greece. Even if I sometimes feel a second of happiness it gets lost in the manifold problems we face. Our kid is alone in Germany. He feels pain in his heart from the stress. He asks for help, but I am far. My wife's situation gets worse day by day. She cries, she forgets, she loses control of her body. There is no light at the end of the tunnel, but I try not to loose hope."

Morteza B.*, father and husband, whose story is here
In 1993, the United Nations General Assembly proclaimed that the 15th May would be observed as the International Day of Families. While some families can celebrate this day, many others cannot. They are separated from each other, unable to live as one.
But what makes one family different from another? Nothing! A family is a family no matter what papers they have or don't have. Families should not be separated by passports and borders! The International Day of Families should not just be for some families – it is for all families! In fact, every day should be family day.
Recently, the Infomobile started a campaign, sharing stories of families separated between Greece and Germany. We want to shed light on this issue and to struggle with people for their right to family life. Our demands are not exceptional. We do not ask governments do something extra, or out of kindness. We simply demand that European governments fulfil their legal obligations to reunite families, under the European Dublin III Regulation, national and international laws.
And we will not be silent. These are just four stories of hundreds and we will continue to publishing more:
A father is alone in Germany, fighting cancer away from his wife and their 8 year old boy in Greece. They lived in a tent on Samos while he was dying, he had to leave Greece but now he is alone. The family have been separated for 1 year and 4 months already.
A 12 year old boy is alone in Germany, his mother is dead and his father and three siblings are stuck in Greece. The boy got lost when the family tried to escape Greece together. They were trying to leave because they had suffered sleeping in a tent in Moria together, and then witnessed a terrible fire in the camp on the mainland they were sent to. Now the Greek Asylum Service will not allow them to apply for family reunification. The family have been separated for around 1 year already.
A 17 year old boy is alone in Germany, away from his parents and three siblings who are in Greece. They were violently pushed back to Greece when trying to escape together as a family. The Greek Asylum Service will not allow them to apply for family reunification. The family have been separated for 2.5 years already.
A mother is alone in Germany, fighting cancer away from her husband and four year old son who are in Greece. Their boat almost sank when they risked their lives to reach European soil. Now the mother can only watch her son grow on the phone. The family have been separated for 8 months already.
!The separation of these families, and any families, is unnecessary, unfair and unlawful!
Although an evident injustice, as we say in our introductory statement to the campaign, thousands of families remain torn apart and are kept actively separated by national authorities.
We must raise our voices together with those who are separated from their loved ones especially today and every day!
A psychological expert opinion published as part of our campaign´s introduction, clearly describes the damage that separating families causes. Having that in mind, we insist once more that the well-being of children must be prioritised and their best interests have to be upheld!
Hey governments! Hey politicians! These are real people, like you and I!
Kids should not be without family to look after them!
Partners should not be apart from each other!
Families should not be missing children!
WE DEMAND ALL FAMILIES TO BE REUNITED NOW!